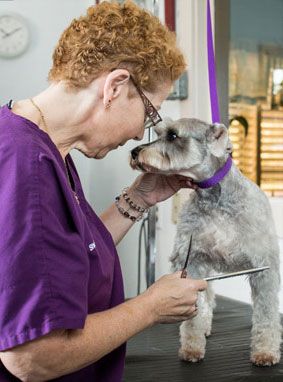 Grooming is an important part of your pet's regular wellness care and a great way to keep him or her looking and feeling great. Regular grooming can also help in the prevention and early detection of skin infections and growths before they become a serious problem.
Port Royal Veterinary Hospital is happy to offer full-service grooming for dogs, cats, birds and exotic pets. Our master groomer and part owner Shelia Ellis can make every pet look his or her best.
A typical visit includes: bathing, conditioning, and blow drying; brushing and combing the coat; checking for infections and parasites; trimming longhaired pets if needed; nail trimming; ear cleaning and hair-plucking the ear canals; and, if necessary, expressing the anal glands. We also finish each grooming session with a bandana or bow for your pet! Every animal is different, so the grooming for each pet is unique. We can recommend a grooming routine for your pet so you know exactly what to look for and how often. If you have a young pet, acquaint him or her with grooming early to ensure an easy process from the start!