We are currently looking for Superhero Staff to join our team!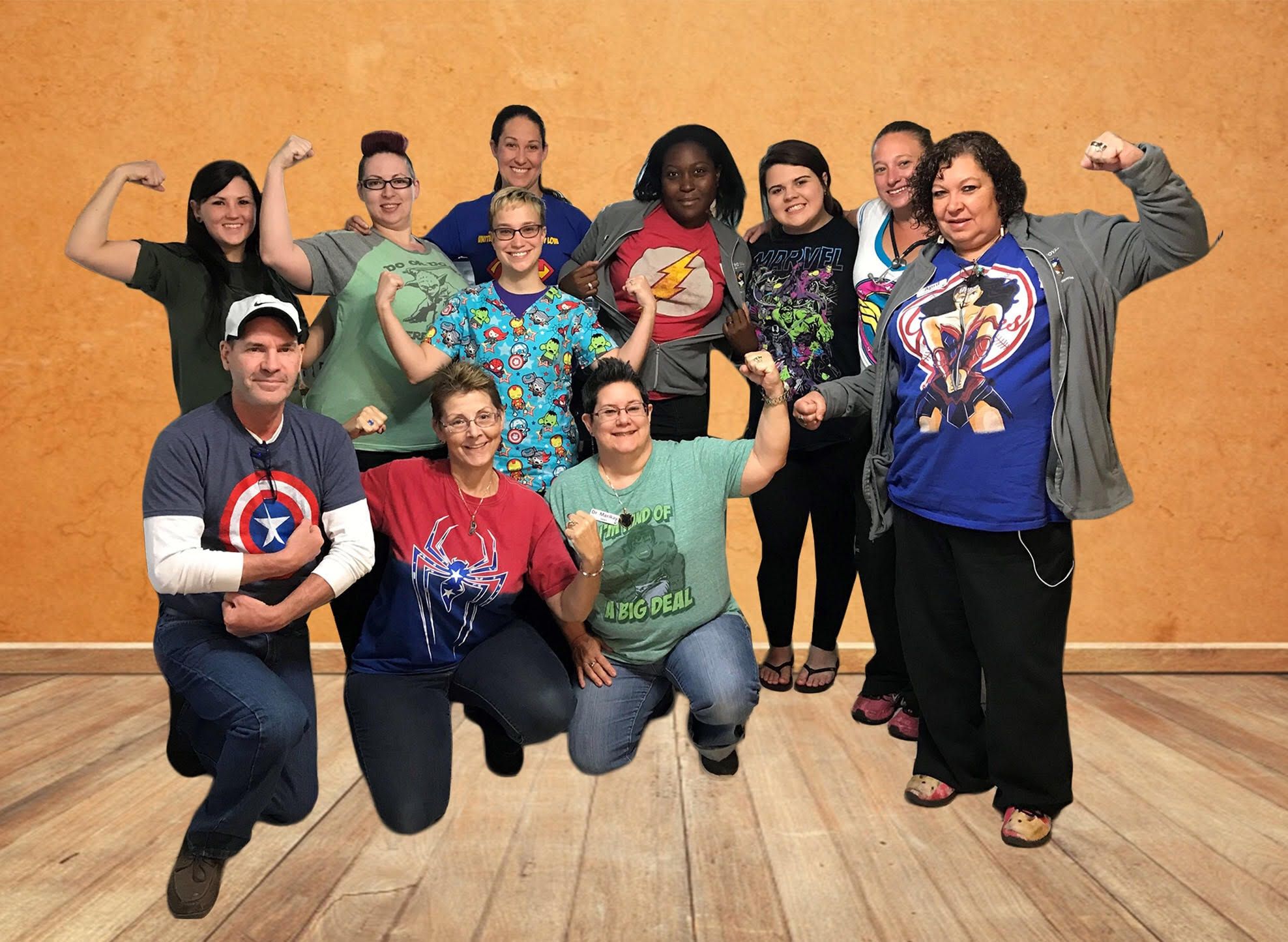 "SUPERHERO STAFF NEEDED! * Some assembly required-capes not included but implied *

Come hang out with a *FUN* hardworking family and have the *FREEDOM* to walk to the *BEACH* on your lunch hour, who gets to do that, you can? Discover a unique place where stunning views of rivers, marshes and moss-hung oaks and authentic Lowcountry cuisine and add a relaxing rhythm to your life. Voted best small town in the Southern Living magazine. Our practice sees nearly all companion pets and our goal is low-stress handling. We see cats, dogs, reptiles, pocket pets, avian and other exotic's. We are the go-to practice in Beaufort County for wildlife (deer, otters, eagles etc. amazing I know right!) and animal shelter/control court cases.
​​​​​​​
Our hospital is led by Dr. Marikay Campbell with a master's degree in veterinary forensics. You know CSI for vets is way cool. Our team works like The Avengers of veterinary medicine, there's the occasional Loki but it all works out in the end." FOR ASGARD!" If you hate mentorship and progressive medicine than this practice isn't for you. Do you think you could fit our brand of crazy?….then you might be in the right place.


If you're interested in going to escape rooms, the movies, get an adult frozen beverage after work OK margaritas we love margaritas, bowling, make silly videos like the 12 Howladays for Christmas, mannequin challenge, and Despacito. Do you accept the challenge?


"Vet staff are a bit like superheroes in disguise" thought the Vet's Wife as she reflected on the remarkable skills she had discovered the team had and wondered what other remarkable skills might come now that they were looking for new staff. Alongside the practical skills and clinical judgment, the Vet's Wife had discovered that amongst the team there was a staff member that was a whiz at interior design who could whip up a latte that couldn't be beaten; another who has a knack for raising chickens and is a computer game nerd; one who loves nature, photography and naps; another who had found time to become a surgical technologist to gain a further diploma; another who is a certified centered riding instructor, makes jewelry and does painting; one who likes to target practice; one who teaches World of Warcraft to gamers around the world and loves mint chocolate ice cream; one who makes the best apple pie; one who has her bachelor's degree in English and literature and is a great chef; one who loves being a mom, sing karaoke and refinish furniture; one who knows everyone in the community and has the biggest heart; one who is a biker in disguise and has a fondness for the little pets; one who was successful at very large nonprofits and favorite color is green (although it should be purple); one who was the sports editor for the Detroit Free Press for 30 yrs. and ran over 5 marathons; one who went to school in Scotland and loved to travel; one who worked in a very exotic career and has a knack for social media, the Vet's Wife felt incredibly supported as she thought about the team - and a little bit in awe. It was somehow wonderful that such an eclectic and remarkable group of people had all ended up with the Vet and her wife. "It's hard to imagine what other super skills might walk through the door under the disguise of a veterinary staff member?" she thought as she started to put together an advert for new Veterinary staff ..... #PortRoyalVet #superheroteam #vetstaff email qualified resume to heather@prvhsc.com
Interested applicants, please fill out the form below. You may also email Shelia at shelia@prvhsc.com​​​​​​​ or call us at 843-379-7387 ​​​​​​​