Ownership
MARIKAY CAMPBELL, DVM, MS
MEDICAL DIRECTOR, HEAD VETERINARIAN
Dr. Mary C. Campbell MS – who goes by Marikay – is the head veterinarian and part owner of Port Royal Veterinary Hospital. She purchased the practice along with Shelia Ellis and Bob Ellis in June 2009.

Originally from Stillwater, NY, Dr. Campbell attended the University of Charleston as an undergraduate, majoring in biology and recreation and graduating Summa Cum Laude. "As a teenager, I wasn't sure I'd want to be a veterinarian," she says. "After college, I visited a friend whose family owned a veterinary practice and ended up totally hooked! Seeing a dog that had been hit by a car make a full recovery and walk out the door changed my life."

After working part-time at a clinic, Dr. Campbell attended veterinary school at Michigan State University and graduated in 1991. She is a member of the American Veterinary Medical Association, the South Carolina Association of Veterinarians, The Association of Avian Veterinarians, and the Association of Sugar Glider Veterinarians. Her professional interests include exotic animal medicine, surgery, pain control, and dermatology.

"The ability animals have to heal is amazing," says Dr. Campbell. "Being able to participate in the process by removing obstacles from their paths is truly inspiring. Seeing a critically ill or injured pet turn the corner and recover makes every long day worthwhile."

​​​​​​​At home, Dr. Marikay has two Bengal cats, Mar-Vell and her son Flerken. In her free time, she enjoys photography and working with plants.
SHELIA ELLIS
SOCIAL MEDIA AND PUBLIC RELATIONS DIRECTOR
Shelia Ellis was a master groomer for 30 years and has retired from that profession. She is now our Social Media and Public Relations Director. She purchased Port Royal Veterinary Hospital along with Dr. Marikay Campbell and Bob Ellis in June 2009.

"We love our clients and try our best to make them feel as though they are family," Shelia says. "We want to empower them to take a vital role in the medical care of their pets."

Shelia has two Bengal cats named Mar-Vell and her son Flerken. In her free time, she enjoys cooking, training her dogs, taking walks on the beach, and spending time with her grandchildren.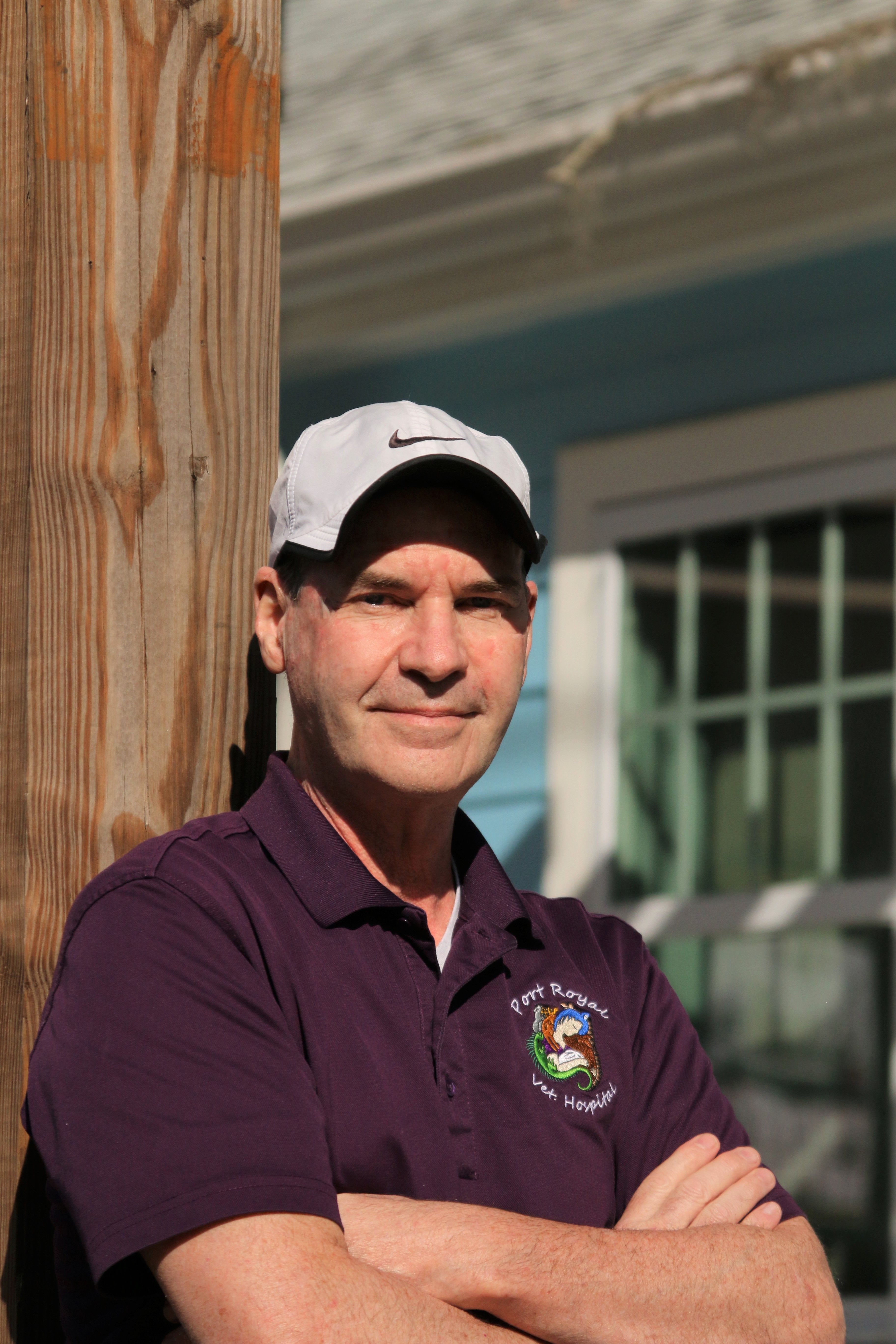 BOB ELLIS
PRACTICE MANAGER
Bob Ellis co-founded and is part-owner of Port Royal Veterinary Hospital along with Dr. Marikay Campbell and Shelia Ellis.
​​​​​​​
Bob has bachelor's degrees in Psychology and Communications from the University of Detroit and previously worked as a supervising editor, production specialist, book and special projects editor, and NASCAR columnist for the Detroit Free Press, Michigan's largest daily newspaper.

"After 30 years in the newspaper business, I wanted to move to somewhere warm and near the ocean and discovered Port Royal was a great place to live and work. Our clients are great and it's our pleasure to give them the best veterinary service possible."

Outside of work, Bob is a runner who has competed in five marathons since turning 50 and approximately 30 half marathons, and more than 100 10K races. He also enjoys swimming and kayaking and is an avid student of history and current events.
Bob serves on the board of directors for the Sea Island Rotary Club and volunteers for its Smile Mobile program, which provides free dental care to patients well below the poverty level. Bob is also active in Adopt-A-Highway.

He serves on the Town of Port Royal's Zoning Board of Adjustments and Appeals and is a member of the Historic Port Royal Foundation. Bob belongs to the Beaufort Chamber of Commerce and is a proud member of Port Royal's Wardle Family YMCA.
Executives
STEPHANIE TOSCANO
OPERATIONS LEAD
Stephanie recently moved to Bluffton, SC from Long Island, NY where she has spent more than two decades working with animals, both as a veterinary technician and veterinary hospital manager. She graduated from Suffolk Community College with a degree in Veterinary Science and Biology in 2006.

Besides loving animals and working with them, she is a huge fan of music and can name any song and sing all the lyrics to it, too. She enjoys traveling, especially if it involves taking a ride in her Jeep! At home, she has a rescued, one-eyed Toy Poodle named Ziggy, as well as three rescued cats, Bigsby, Hendrix, and Helmet.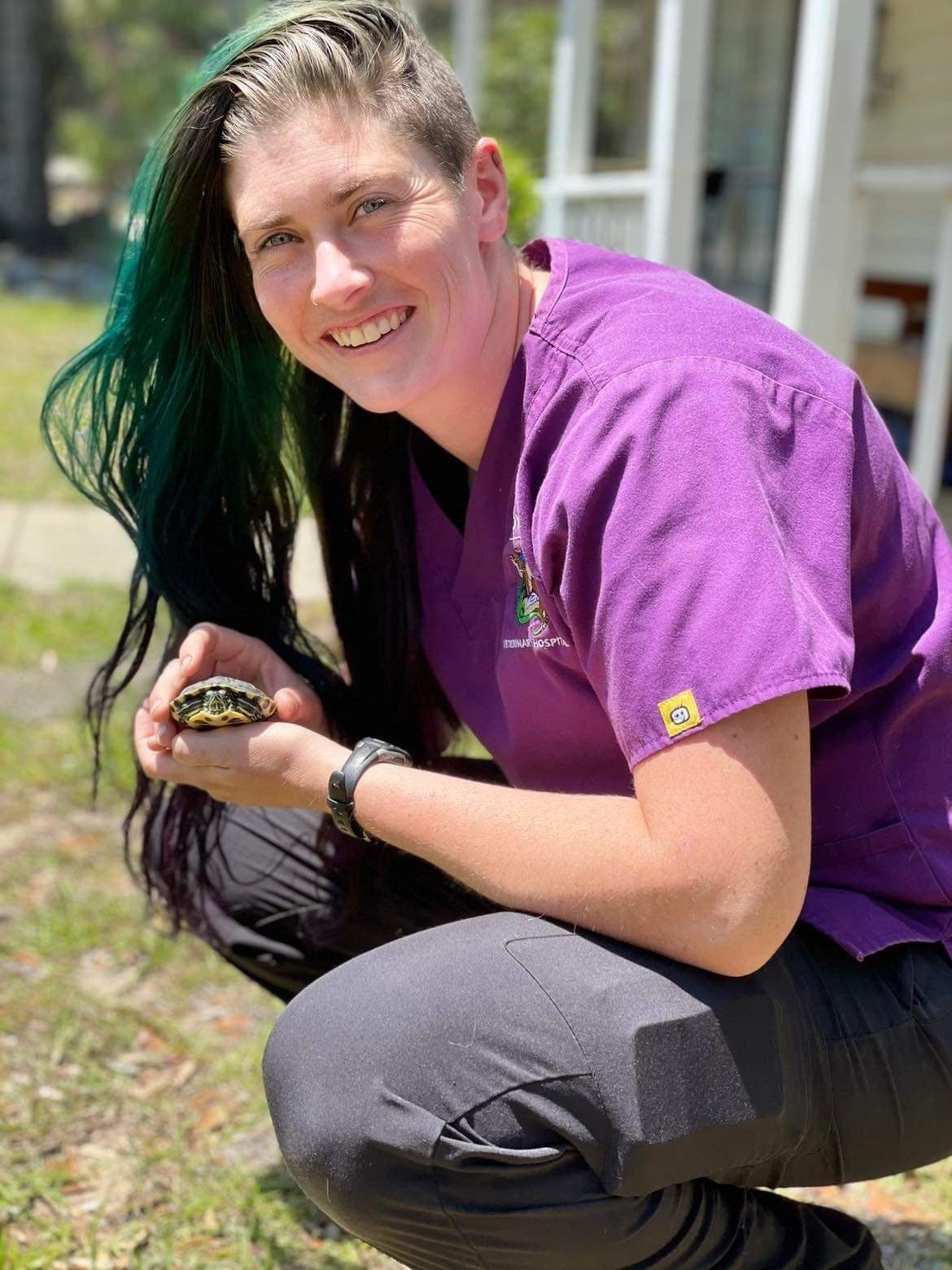 KATHERINE GAY
TEAM SUPERVISOR
Katie was raised right here in Beaufort, SC, where she discovered her love for wildlife, the outdoors and everything the beautiful lowcountry has to offer. This passion ultimately led her to earn her degree in Wildlife Biology from Clemson University in 2019. Post graduation, she went on to work closely with naturalists at Table Rock State Park before moving back to the area to try her hand training and breaking horses. Her successes sparked further interest into the field of veterinary medicine with flares of that wildlife aspect she initially fell in love with. What a more perfect fit than that of Port Royal Veterinary Hospital, where she started in May of 2021. She takes great pride in caring for animals of all sorts, shapes, sizes and breeds. When she's not working, Katie can be found spending time with her family or out on the river enjoying various activities. She has two pets at home, her orange tabby named Simba and her Yellow-Bellied Slider Edgar.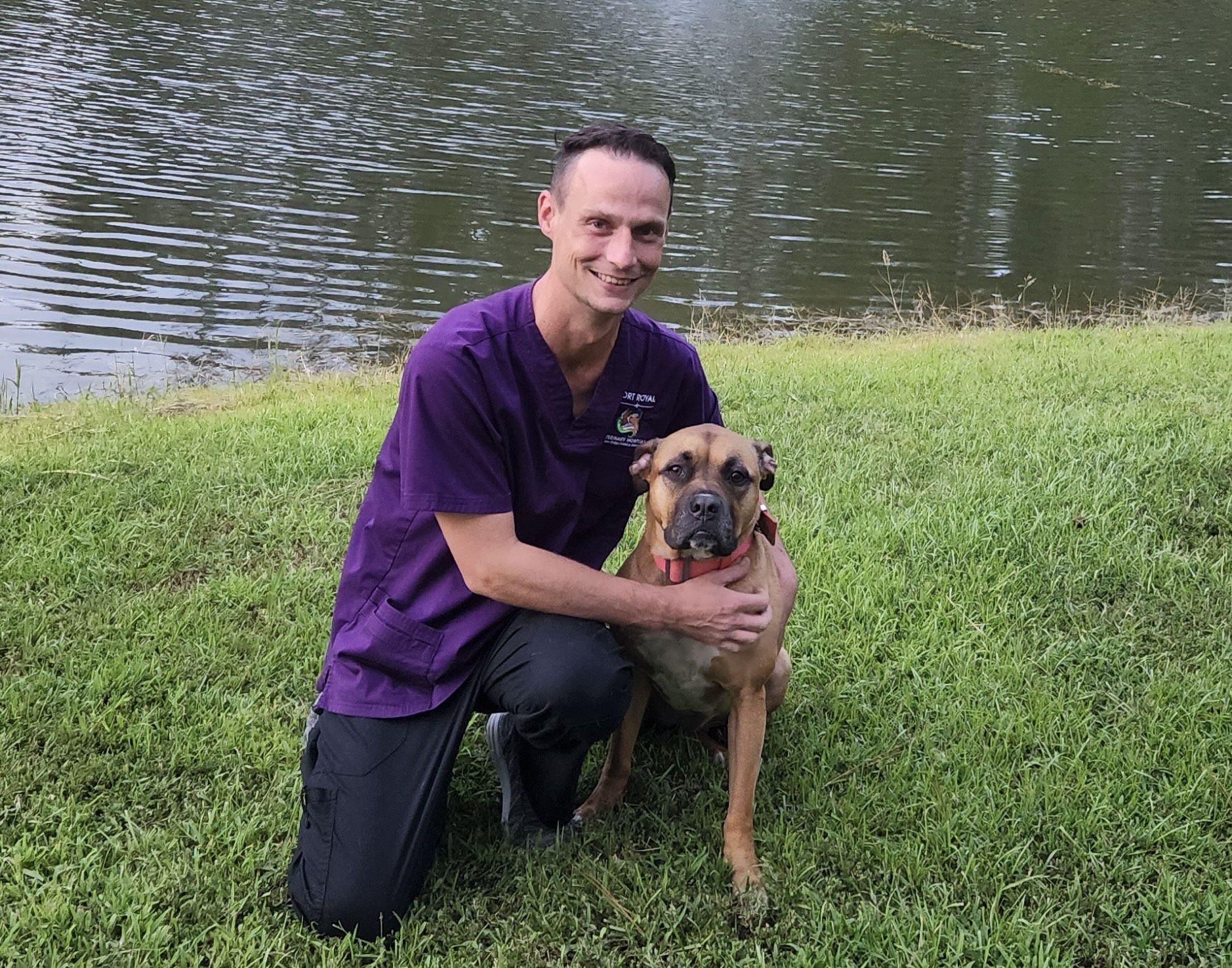 DONOVAN SANCHEZ
ASSISTANT SUPERVISOR
I grew up on Hilton Head Island and the surrounding low-country area. I have always had a passion for helping animals and graduated Ashworth College in 2017 where I obtained my LVT. In my spare time I enjoy kayaking, hiking and spending time with my friends and family. Currently I have 2 dogs, 2 guinea pigs and a salt water aquarium. I became part of the PRVH family in June of 2022 and look forward to working with the community on keeping your pets happy and healthy.


Veterinary Assistants and Aides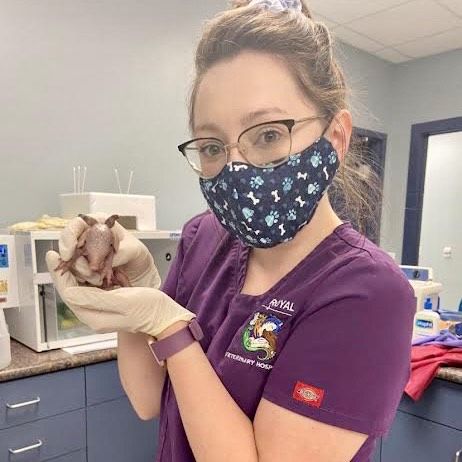 HEATHER THORNTON
TEAM TRAINER/ VETERINARY ASSISTANT
Heather Thornton moved to the low country in 2012 with her now husband Keith Thornton. She enjoys spending quality time with their baby Patrick James, their 5 cats, 2 dogs and 1 bunny. Heather has been in this field since 2015. "My passion is to give animals their voice in their medical care while providing the utmost care possible and making a positive difference in the lives of not only the animals but their owners."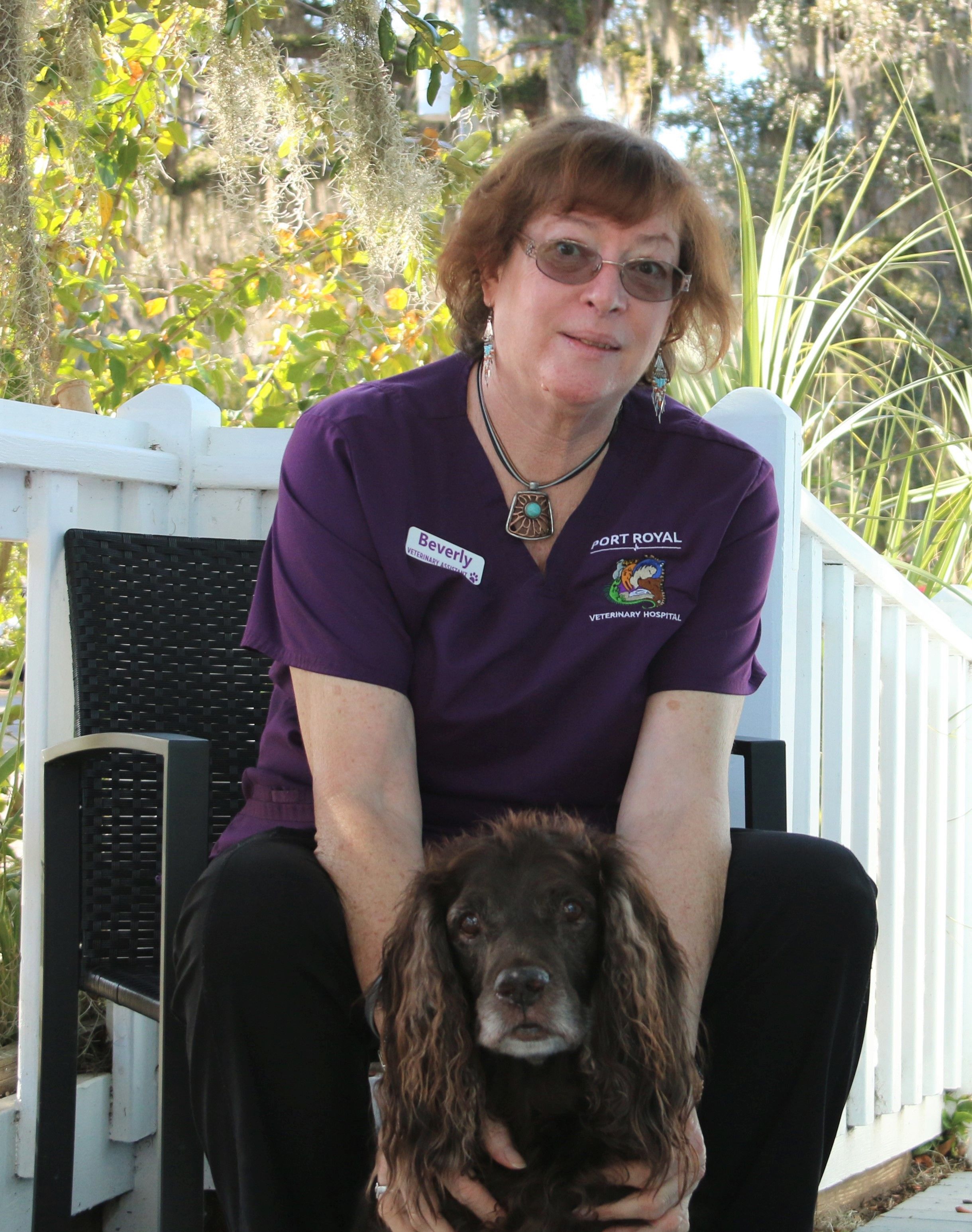 BEVERLY BOEHM
HOSPITAL ASSISTANT
Beverly Boehm's career in animal husbandry includes more than 38 years in the equine industry in which she showed hunters and dressage, owned and manages to ride facilities that provided lessons, boarding, breeding, training, and trail riding. She is a recognized/certified Centered Riding instructor, Pony Club instructor, therapeutic riding instructor, and certified riding coach for Special Olympics.

Beverly has more than 18 years' experience as a large animal and small animal vet tech.

"I presently share my life with two rescue dogs: Hank, an 8-year-old Boykin Spaniel and Bitsie, a 16-year-old Rat Terrier/Jack Russell mix; Miss Kitty, an orange tabby; and Sherlock, a 50-year-old Yellow Naped Amazon Parrot; and my best friend of 39 years, Carol."

Hobbies and Passions: animal rescue – Beverly has rescued more than 40 cats, dogs, horses, dogs, birds, and goats – and arts and crafts such as making jewelry, painting, and refinishing furniture. She loves reading and walks on the beach.

"I have shared my experiences while living in seven states and the U.S. Virgin Islands," says Beverly, and added that she "provided the first flying ark, flying 16 horses, 14 dogs, eight cats, and a parakeet back to the States after Hurricane Hugo destroyed our farm and home in St. Croix in 1989."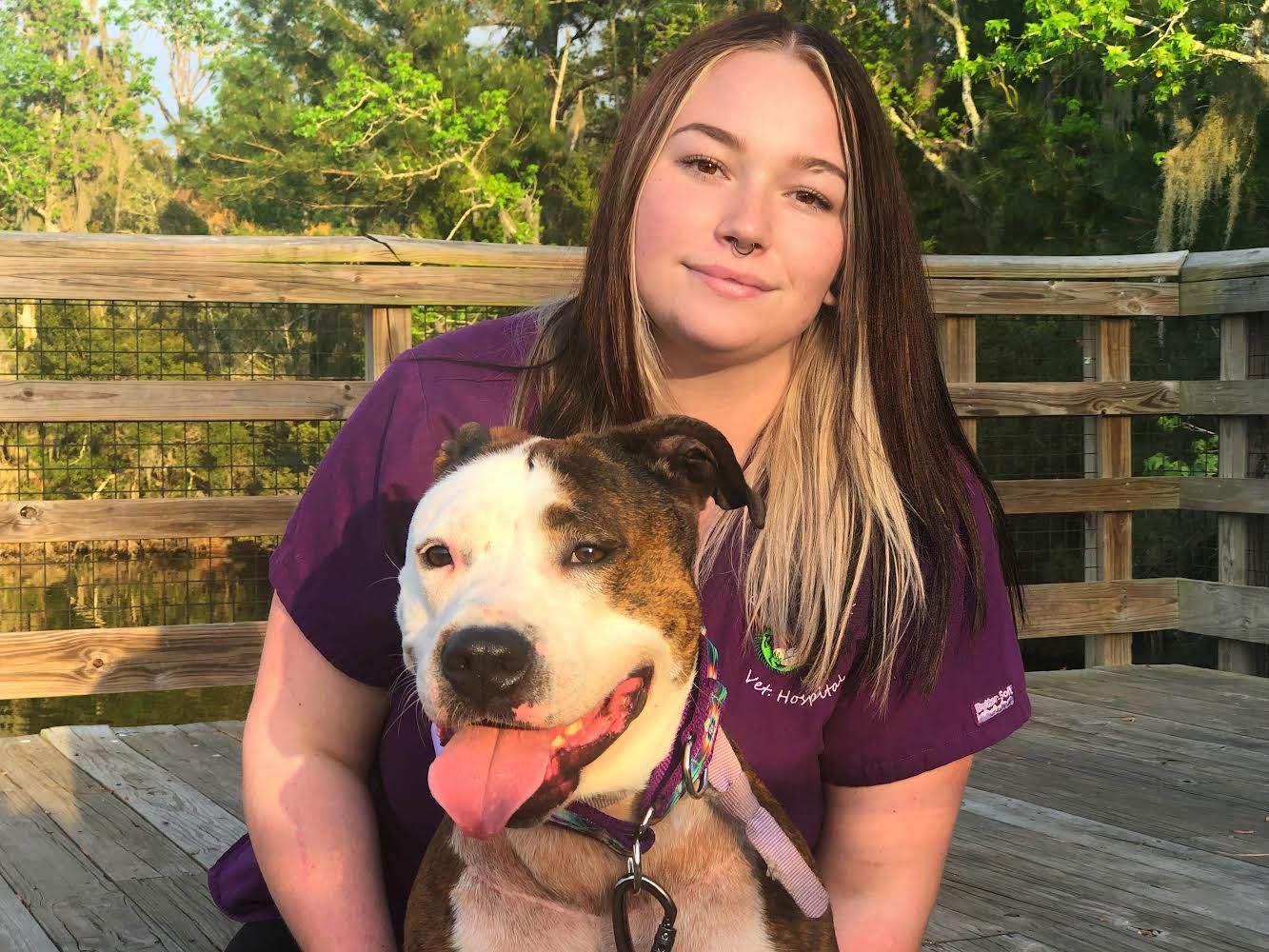 MALARIE GODWIN
VETERINARY ASSISTANT
More commonly known as "Mal" joined Port Royal Veterinary Hospital in March of 2021. Mal has 7 years experience working in the animal care taking field, born and raised in the Lowcountry, a true local!

Mal's interests include: Watching The History channel, Anime, Marvel, anything fantasy from Lord of the Rings to Star Wars, doing art and crafts projects such as painting canvases to wood burning, Axe throwing, Archery and lastly anything to do with animals!

She first started at a non-profit animal shelter; that is where she found her passion…. Animal Rescue!! One day she plans to have her own rescue where any animal, no matter how rough life has been to them, big or small, missing limbs or maybe some extra, Has somewhere to call home. Even if it's just a pit-stop on their way to their 'fur'ever home.
Grooming
SARAH ELLIS
LEAD GROOMER/CSR
"My family has been showing dogs and involved in the veterinary and grooming industry for many years. I started professionally grooming about 20 years ago in a grooming salon owned by my family in Michigan.
"I was trained by a master groomer. I moved to Port Royal in 2010 to be closer to my family. I appreciate animals of all species and sizes. I am the groomer at PRVH and love my job. I have a Cat named Lover Boy and a Shetland Sheepdog named Fondue. I get a kick out of caring for my pets and helping with my nieces and nephews. I enjoy cooking, reading, riding horses and traveling."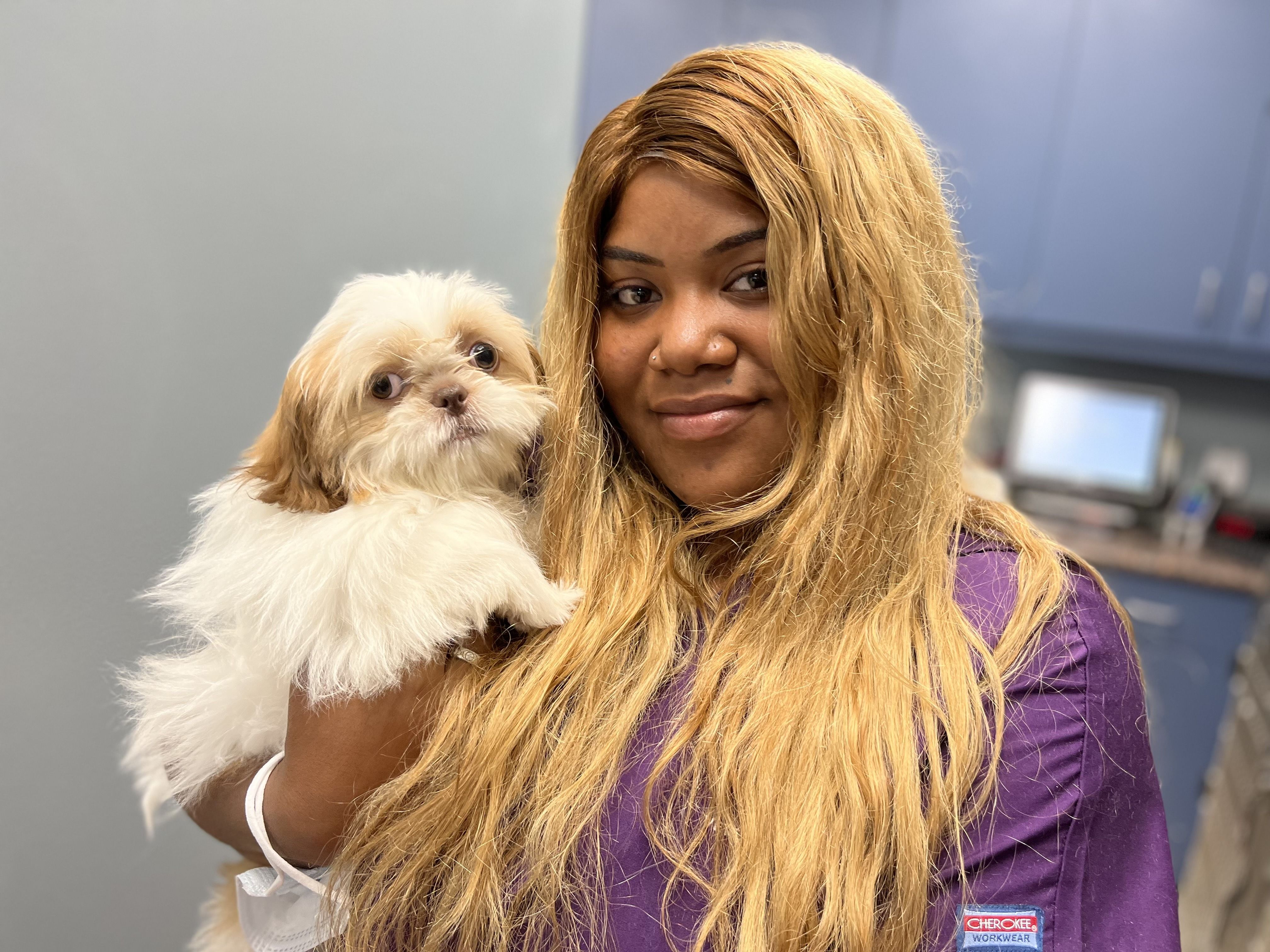 HEAVEN SMITH
GROOMER
"Born and raised in Beaufort South Carolina from a military family. I have spent some time wondering what I wanted to do in life and became a CNA . After doing some soul-searching, I wanted to fulfill the dream of working with animals. I found my passion which is being a pet beautician! After years of experience I'm now grooming on a daily basis at Port Royal Veterinary hospital - my new second home!"