Our Team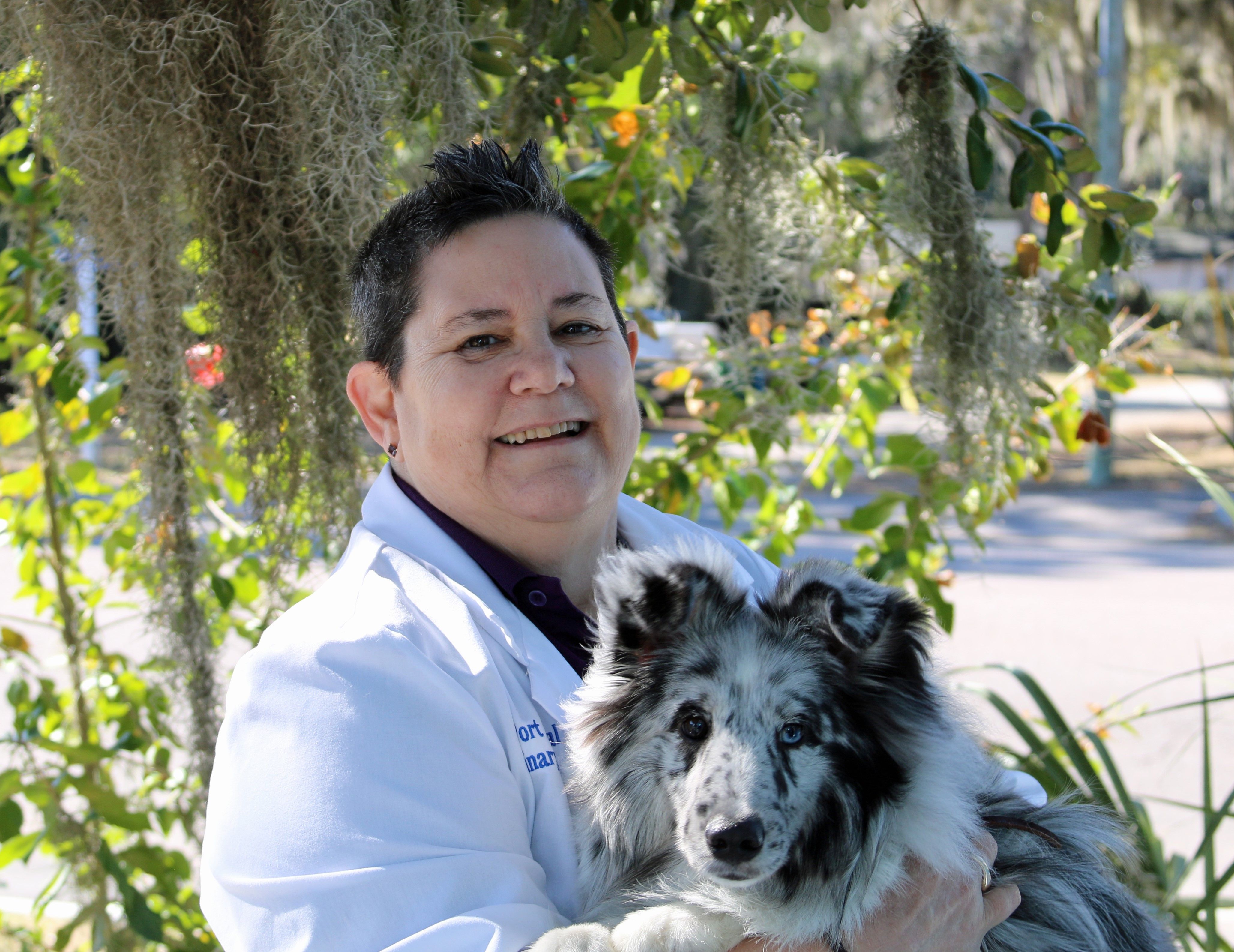 MARIKAY CAMPBELL, DVM, MS
LEAD VETERINARIAN
Dr. Mary C. Campbell MS – who goes by Marikay – is the head veterinarian and part owner of Port Royal Veterinary Hospital. She purchased the practice along with Shelia Ellis and Bob Ellis in June 2009.

Originally from Stillwater, NY, Dr. Campbell attended the University of Charleston as an undergraduate, majoring in biology and recreation and graduating Summa Cum Laude. "As a teenager, I wasn't sure I'd want to be a veterinarian," she says. "After college, I visited a friend whose family owned a veterinary practice and ended up totally hooked! Seeing a dog that had been hit by a car make a full recovery and walk out the door changed my life."

After working part-time at a clinic, Dr. Campbell attended veterinary school at Michigan State University and graduated in 1991. She is a member of the American Veterinary Medical Association, the South Carolina Association of Veterinarians, The Association of Avian Veterinarians, and the Association of Sugar Glider Veterinarians. Her professional interests include exotic animal medicine, surgery, pain control, and dermatology.

"The ability animals have to heal is amazing," says Dr. Campbell. "Being able to participate in the process by removing obstacles from their paths is truly inspiring. Seeing a critically ill or injured pet turn the corner and recover makes every long day worthwhile."

​​​​​​​At home, Dr. Marikay has two Bengal cats, Mar-Vell and her son Flerken. In her free time, she enjoys photography and working with plants.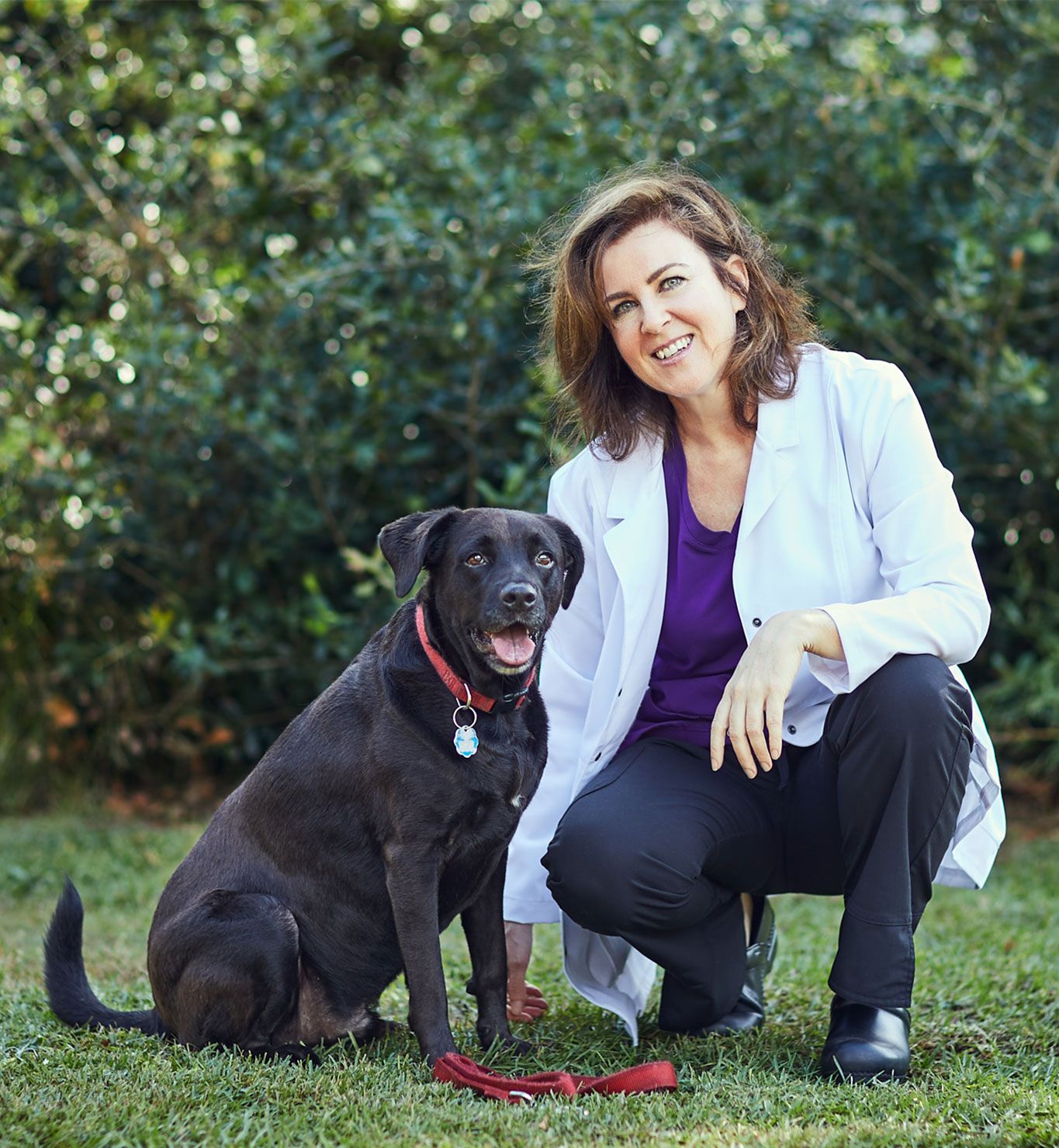 DR. MICHELLE MARTIN
MEDICAL DIRECTOR
Dr. Martin is a great addition to our veterinary team at Port Royal. She hails from Cape Cod, Massachusetts where she earned her undergraduate degree at the University of Massachusetts, Amherst. She then followed her lifelong love all things Scottish and attended the School of veterinary medicine at the University of Glasgow, Scotland. She graduated in 2009 and moved to Wilmington, NC to begin her veterinary career.

She fell in love with educating clients about the importance of preventative care. Just like with humans, regular wellness exams provide the opportunity to diagnose and treat ailments early. The veterinary world tends to mirror changes in human medicine. As wellness and preventative exams are becoming increasingly important, we see the same in our beloved animals. Proper vaccination protocols, physical exams, blood work and heartworm preventative are critical necessities to be proactive within our pet's healthcare. Of course, there are some situations that require a more invasive treatment and Dr. Martin will not pass up the opportunity to challenge herself surgically.

In December of 2016, she moved to South Carolina to be closer to her parents who reside in the Bluffton area. She has a black Labrador named Chatham and a rescued senior cat named Mako, who is FIV positive and hyperthyroid. She is passionate about making hospital visits easier for owners and pets alike. This is made possible through the use and education of gentle handling, along with pheromones, anti-anxiety medication, positive reinforcement and minimally invasive exams.

Dr. Martin grew up on the beaches of Cape Cod which prepared her for southern shore life. Except, in the north they like quahogs, little necks and clam bakes while down here she's learned to appreciate an oyster roast and a good ol' low country boil. She loves to travel and was fortunate while in Scotland to visit other nearby countries.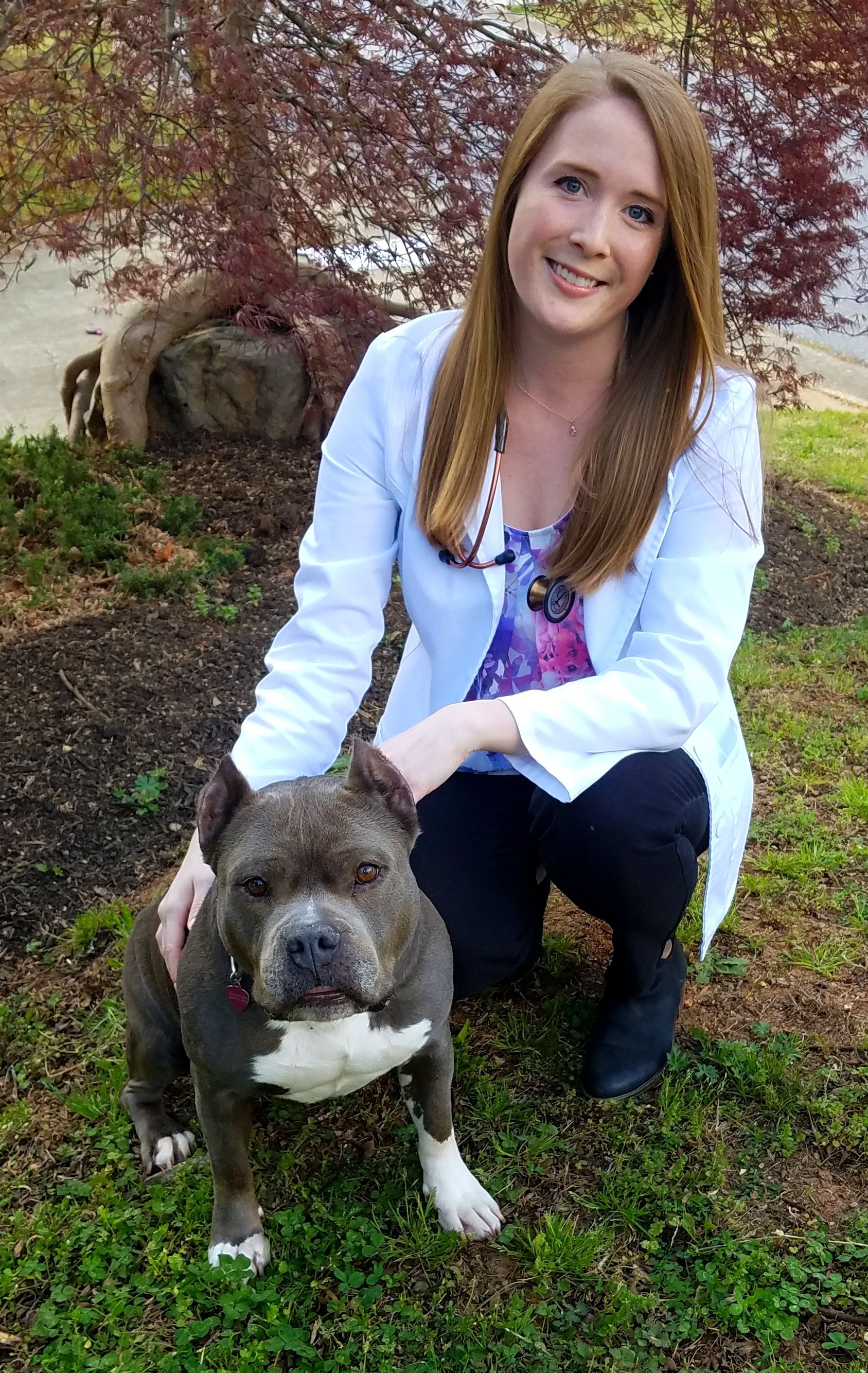 DR. JEANICE LANE
ASSOCIATE VETERINARIAN
Dr. Jeanice Lane joined the Port Royal Veterinary Hospital team as an Associate Veterinarian in 2019. Originally from Greenville, South Carolina, Dr. Lane developed a passion for working with animals and people alike under the tutelage of her veterinarian mother.

Dr. Lane has an extensive work history with a variety of large and small animals where she focused on incorporating both husbandry and medical care. She obtained her Bachelor's degree in Animal and Veterinary Science at Clemson University prior to earning her Doctorate in Veterinary Medicine at the University of Georgia. Dr. Lane's specific areas of interest include internal medicine, ophthalmology, dentistry, ultrasonography, and shelter medicine.

In May 2019, Dr. Lane moved to Bluffton, South Carolina to be close to family. She and her fiancé (also a veterinarian) have a Terrier named Tug, a Chihuahua named Ramone, and an American Bully named Merris whom they rescued while in school. Their furry family is rounded out by two cats, Chrissy and Stevie Wonder.

In her free time, Dr. Lane enjoys running, traveling, and spending time with family. When she wants to relax, Dr. Lane can often be found in her "create space" painting, crafting or making music.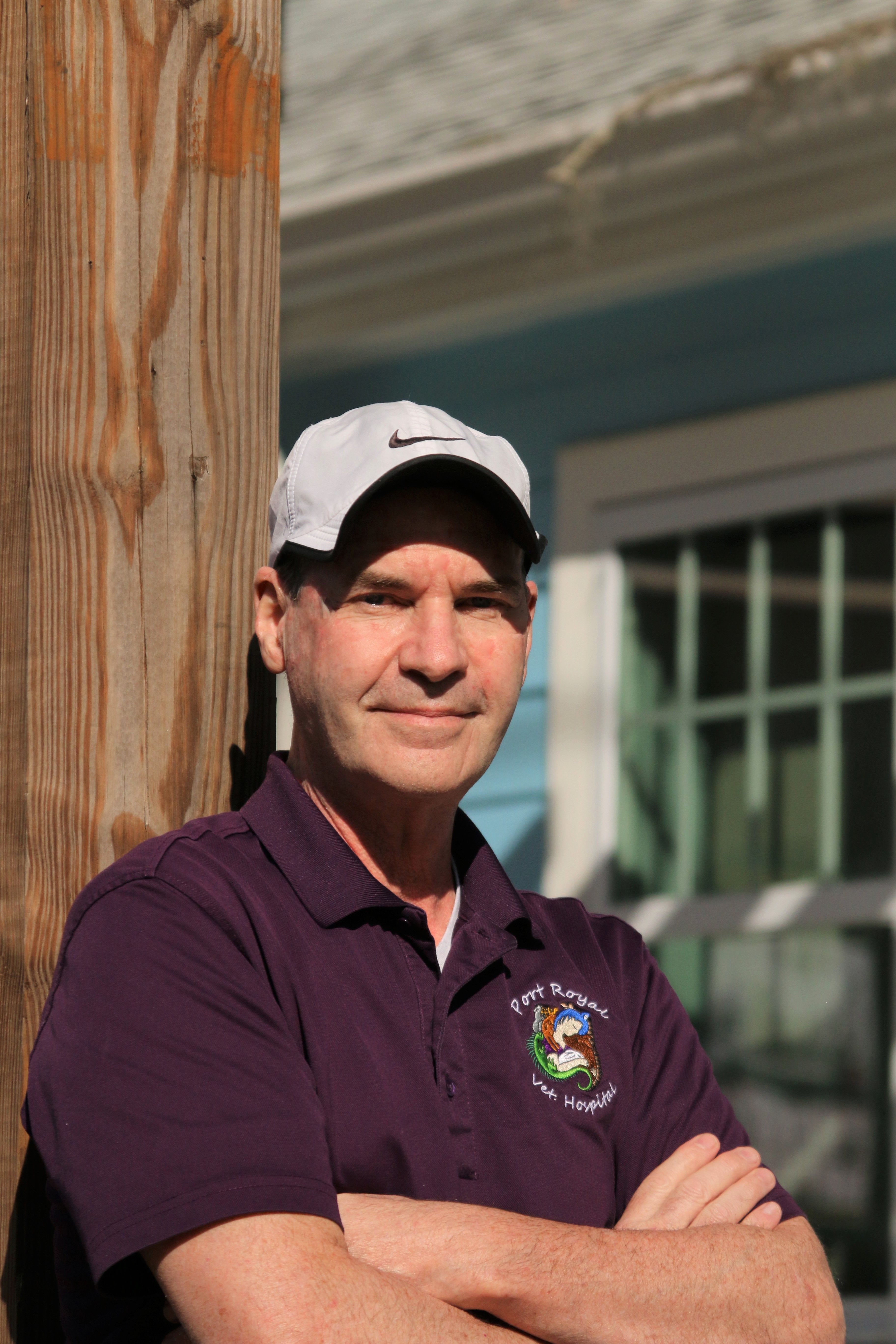 BOB ELLIS
PROJECT MANAGER
Bob Ellis co-founded and is part-owner of Port Royal Veterinary Hospital along with Dr. Marikay Campbell and Shelia Ellis.
​​​​​​​
Bob has bachelor's degrees in Psychology and Communications from the University of Detroit and previously worked as a supervising editor, production specialist, book and special projects editor, and NASCAR columnist for the Detroit Free Press, Michigan's largest daily newspaper.

"After 30 years in the newspaper business, I wanted to move to somewhere warm and near the ocean and discovered Port Royal was a great place to live and work. Our clients are great and it's our pleasure to give them the best veterinary service possible."

Outside of work, Bob is a runner who has competed in five marathons since turning 50 and approximately 30 half marathons, and more than 100 10K races. He also enjoys swimming and kayaking and is an avid student of history and current events.
Bob serves on the board of directors for the Sea Island Rotary Club and volunteers for its Smile Mobile program, which provides free dental care to patients well below the poverty level. Bob is also active in Adopt-A-Highway.

He serves on the Town of Port Royal's Zoning Board of Adjustments and Appeals and is a member of the Historic Port Royal Foundation. Bob belongs to the Beaufort Chamber of Commerce and is a proud member of Port Royal's Wardle Family YMCA.
SHELIA ELLIS
SOCIAL MEDIA AND PUBLIC RELATIONS DIRECTOR
Shelia Ellis was a master groomer for 30 years and has retired from that profession. She is now our Social Media and Public Relations Director. She purchased Port Royal Veterinary Hospital along with Dr. Marikay Campbell and Bob Ellis in June 2009.

"We love our clients and try our best to make them feel as though they are family," Shelia says. "We want to empower them to take a vital role in the medical care of their pets."

Shelia has two Bengal cats named Mar-Vell and her son Flerken. In her free time, she enjoys cooking, training her dogs, taking walks on the beach, and spending time with her grandchildren.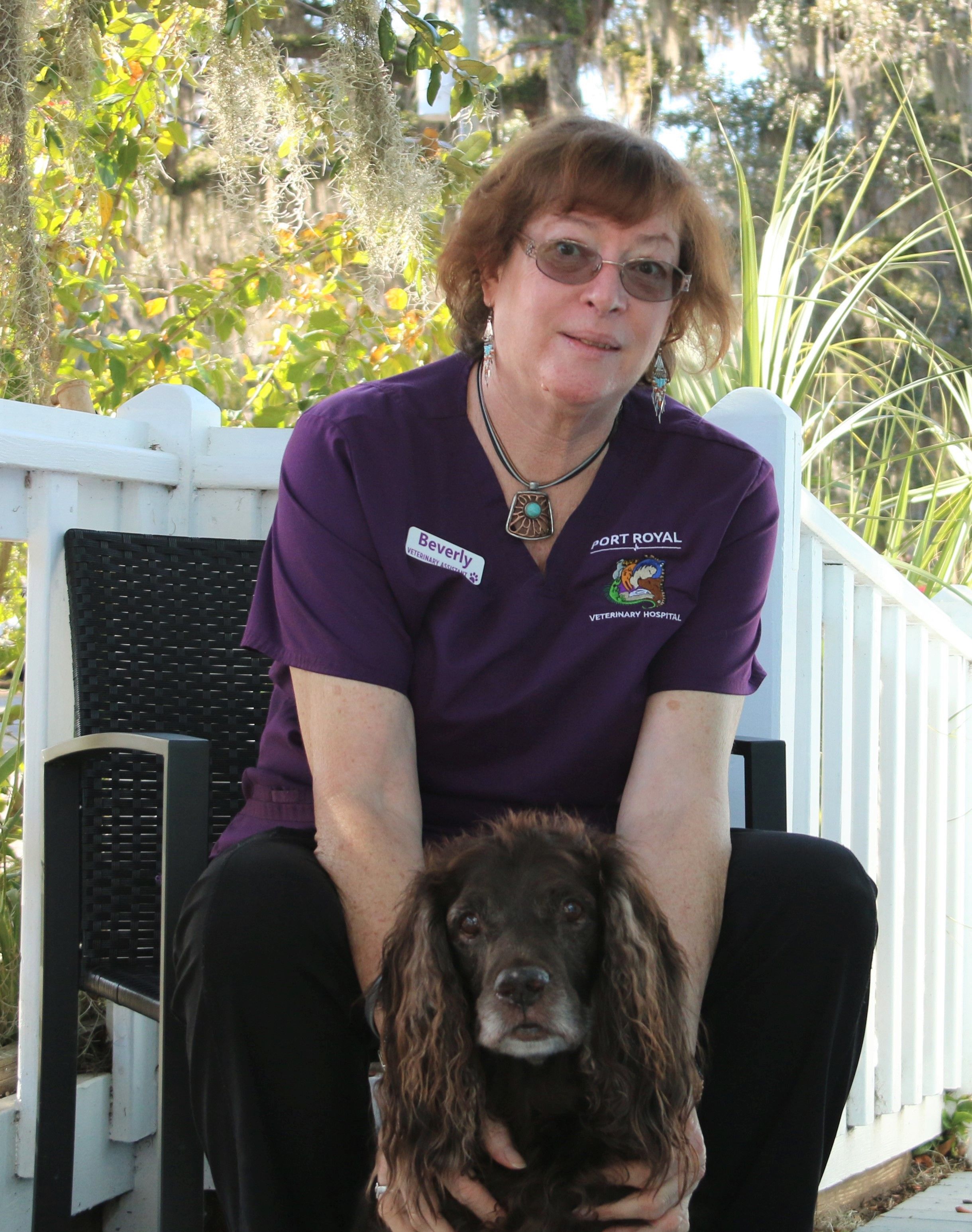 BEVERLY BOEHM
VETERINARY ASSISTANT
Beverly Boehm's career in animal husbandry includes more than 38 years in the equine industry in which she showed hunters and dressage, owned and manages to ride facilities that provided lessons, boarding, breeding, training, and trail riding. She is a recognized/certified Centered Riding instructor, Pony Club instructor, therapeutic riding instructor, and certified riding coach for Special Olympics.

Beverly has more than 18 years' experience as a large animal and small animal vet tech.

"I presently share my life with two rescue dogs: Hank, an 8-year-old Boykin Spaniel and Bitsie, a 16-year-old Rat Terrier/Jack Russell mix; Miss Kitty, an orange tabby; and Sherlock, a 50-year-old Yellow Naped Amazon Parrot; and my best friend of 39 years, Carol."

Hobbies and Passions: animal rescue – Beverly has rescued more than 40 cats, dogs, horses, dogs, birds, and goats – and arts and crafts such as making jewelry, painting, and refinishing furniture. She loves reading and walks on the beach.

"I have shared my experiences while living in seven states and the U.S. Virgin Islands," says Beverly, and added that she "provided the first flying ark, flying 16 horses, 14 dogs, eight cats, and a parakeet back to the States after Hurricane Hugo destroyed our farm and home in St. Croix in 1989."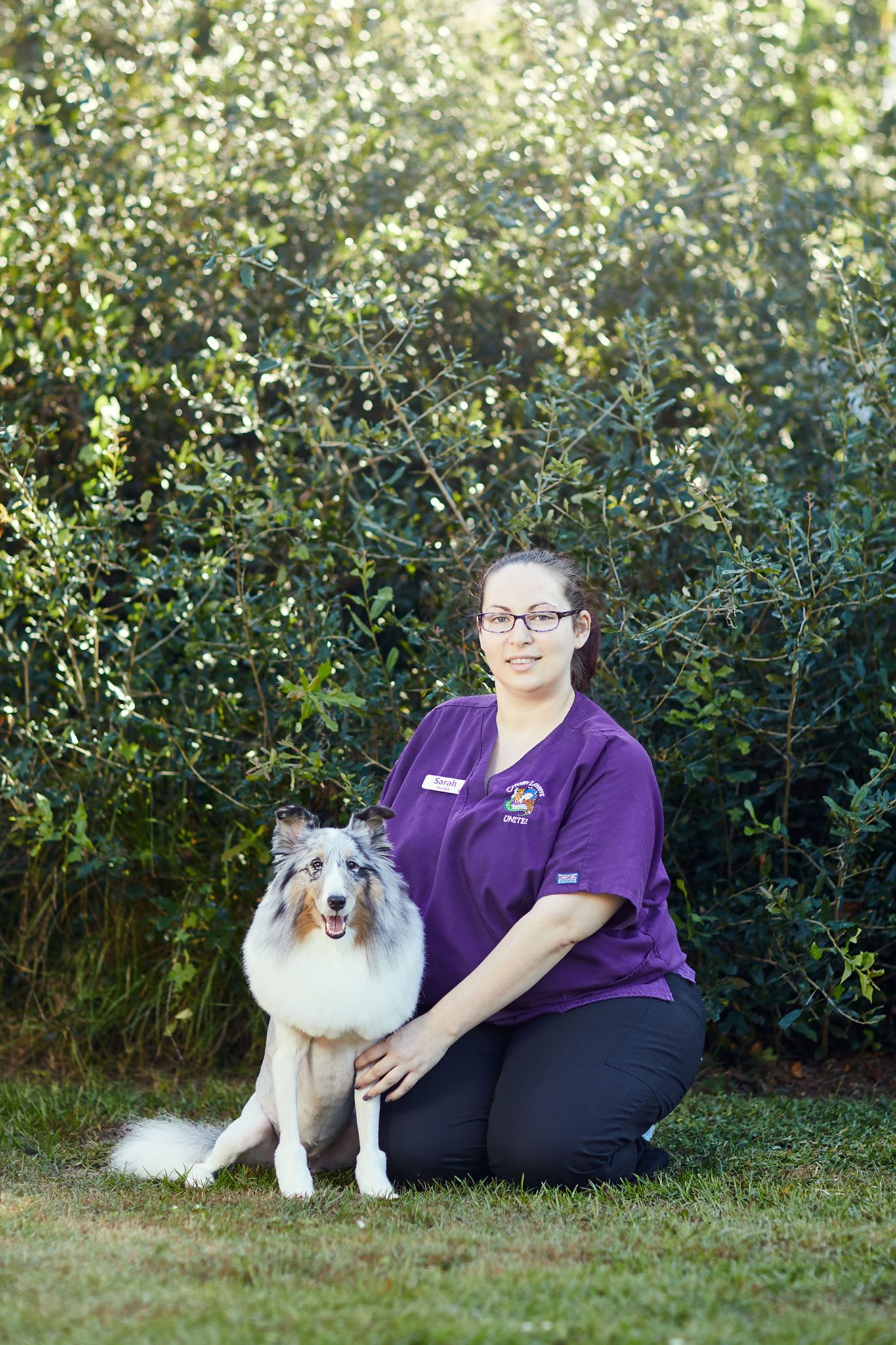 SARAH ELLIS
GROOMER
"My family has been showing dogs and involved in the veterinary and grooming industry for many years. I started professionally grooming about 20 years ago in a grooming salon owned by my family in Michigan.
"I was trained by a master groomer. I moved to Port Royal in 2010 to be closer to my family. I appreciate animals of all species and sizes. I am the groomer at PRVH and love my job. I have a Cat named Lover Boy and a Shetland Sheepdog named Brie. I get a kick out of caring for my pets and helping with my niece and nephew. I enjoy cooking, reading, riding horses and traveling."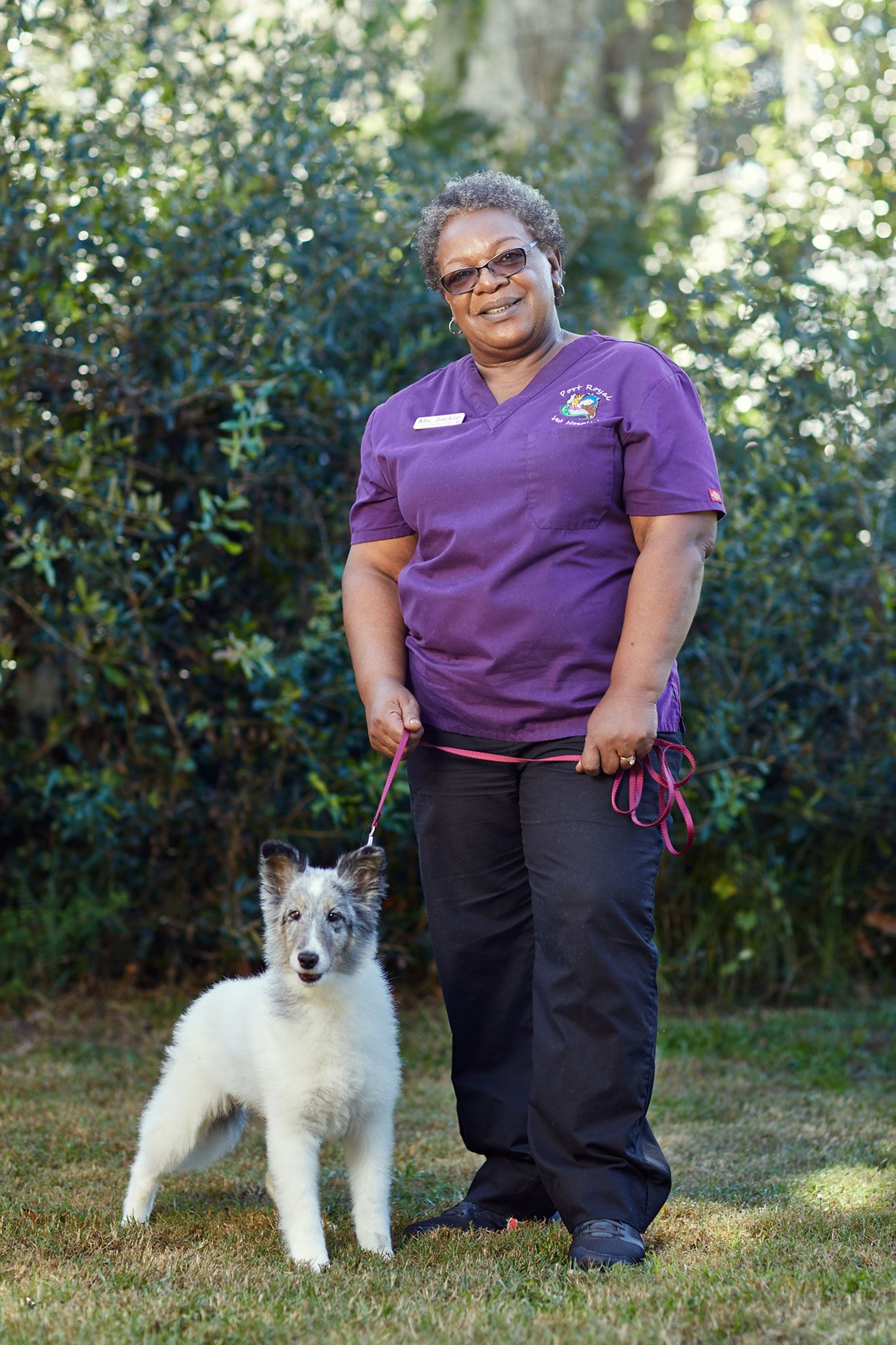 JACQUELINE GARVIN
HOSPITAL ASSISTANT
"My name is Jacqueline Garvin and I love being call 'Ms. Jackie.' I was born in the Port Royal area of Beaufort, SC."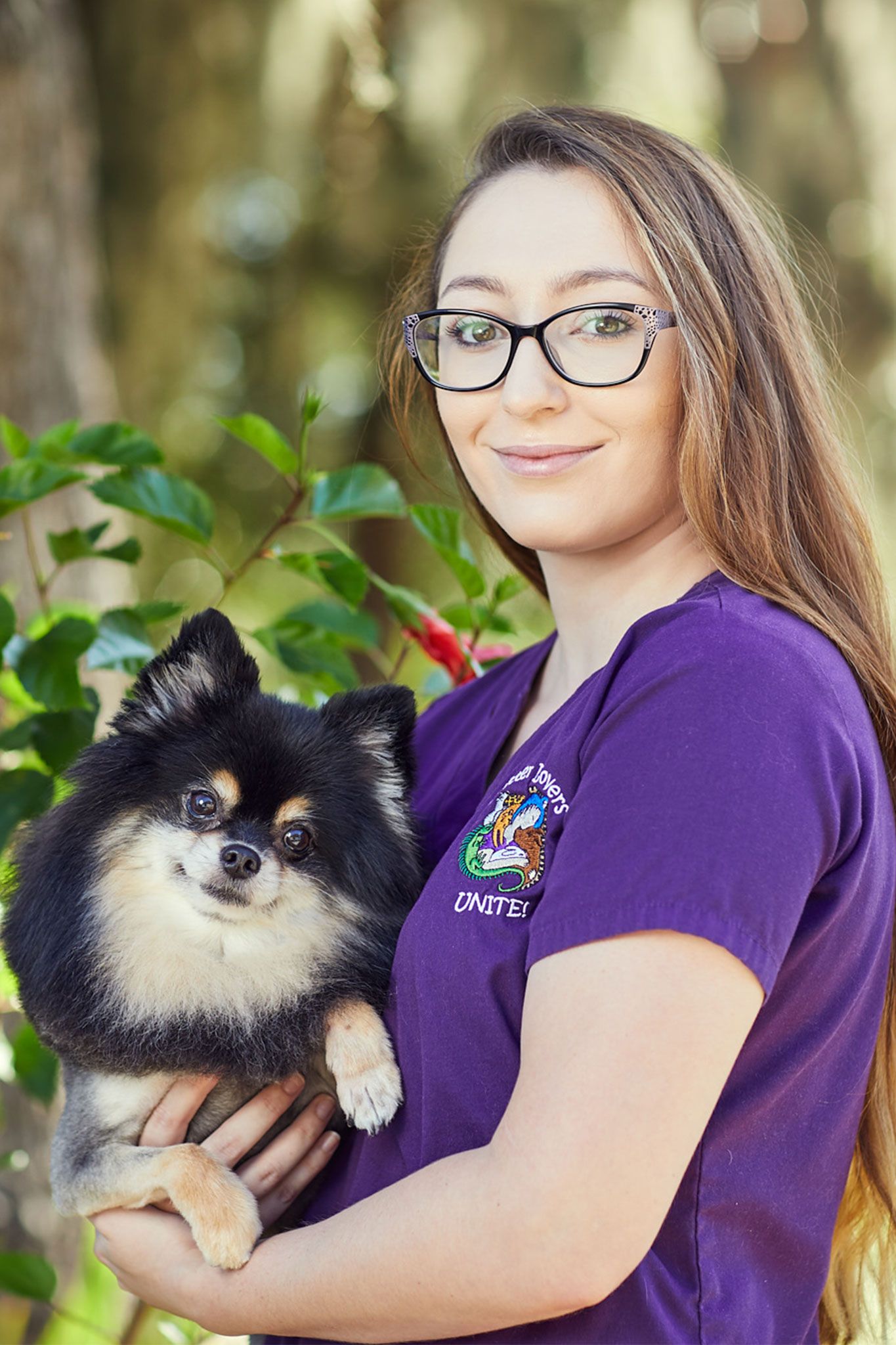 HEATHER NICOLE GARCIA
SUPERVISING TECHNICIAN
Heather Garcia joined Port Royal Veterinary Hospital in July 2015. She has 5 cats (Sugar, La Bomba, Moes, Murdock, and Pico) 2 dogs (Pia and Queso), and 1 Bunny (Bruce). Heather has been in the Beaufort area since 2013 when she moved down with her now-husband Keith. When Heather is not working she enjoys spending time with her friends and family, watching movies and tv shows such as The Bachelor/Bachelorette and Grey's anatomy. Other interests include home decor design, crafts, reading, listening to music, and trying out a new recipe in the kitchen!

​​​​​​​"I have always had a passion for animals as far back as I could remember and I am very grateful that I got lucky enough to be able to do what I love. Working at Port Royal Veterinary Hospital each day there is something new to learn and that makes it exciting. I love communicating with our clients and helping them with their pet's needs along with being a supervisor for our awesome technicians, assistants, and working closely with the amazing doctors we have."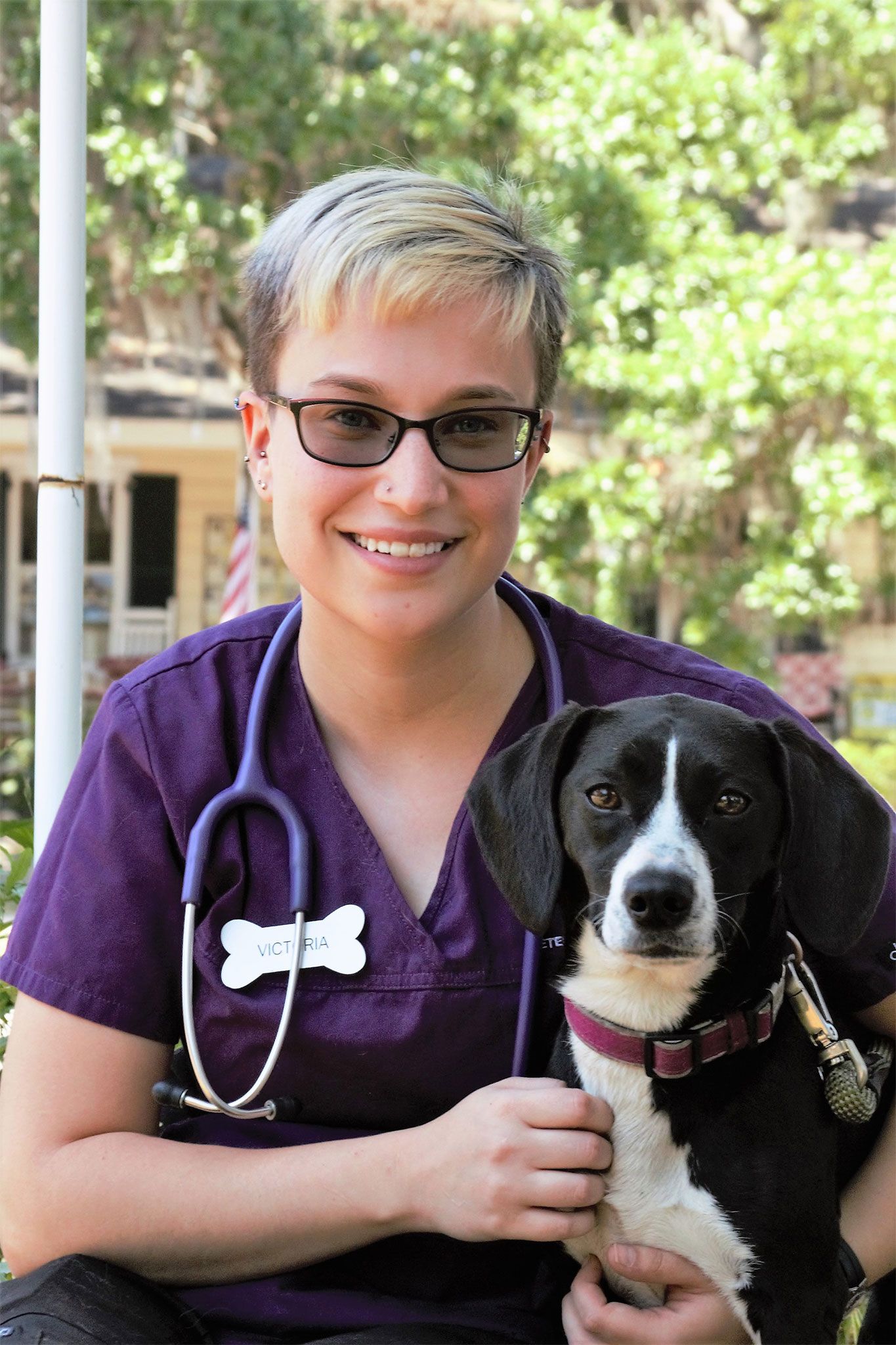 VICTORIA SMITH
LICENSED VETERINARY TECHNOLOGIST
"My name is Victoria. I am originally from Kentucky. I graduated from Murray State University in December of 2016. I have a Bachelors of Science in Agriculture. I became a Licensed Veterinary Technologist in June of 2017. I also became a Certified Veterinary Euthanasia Technician in April of 2018. I enjoy playing Pokemon and reading books during my free time. My husband and I love to spoil our two dogs, two cats, and our box turtle."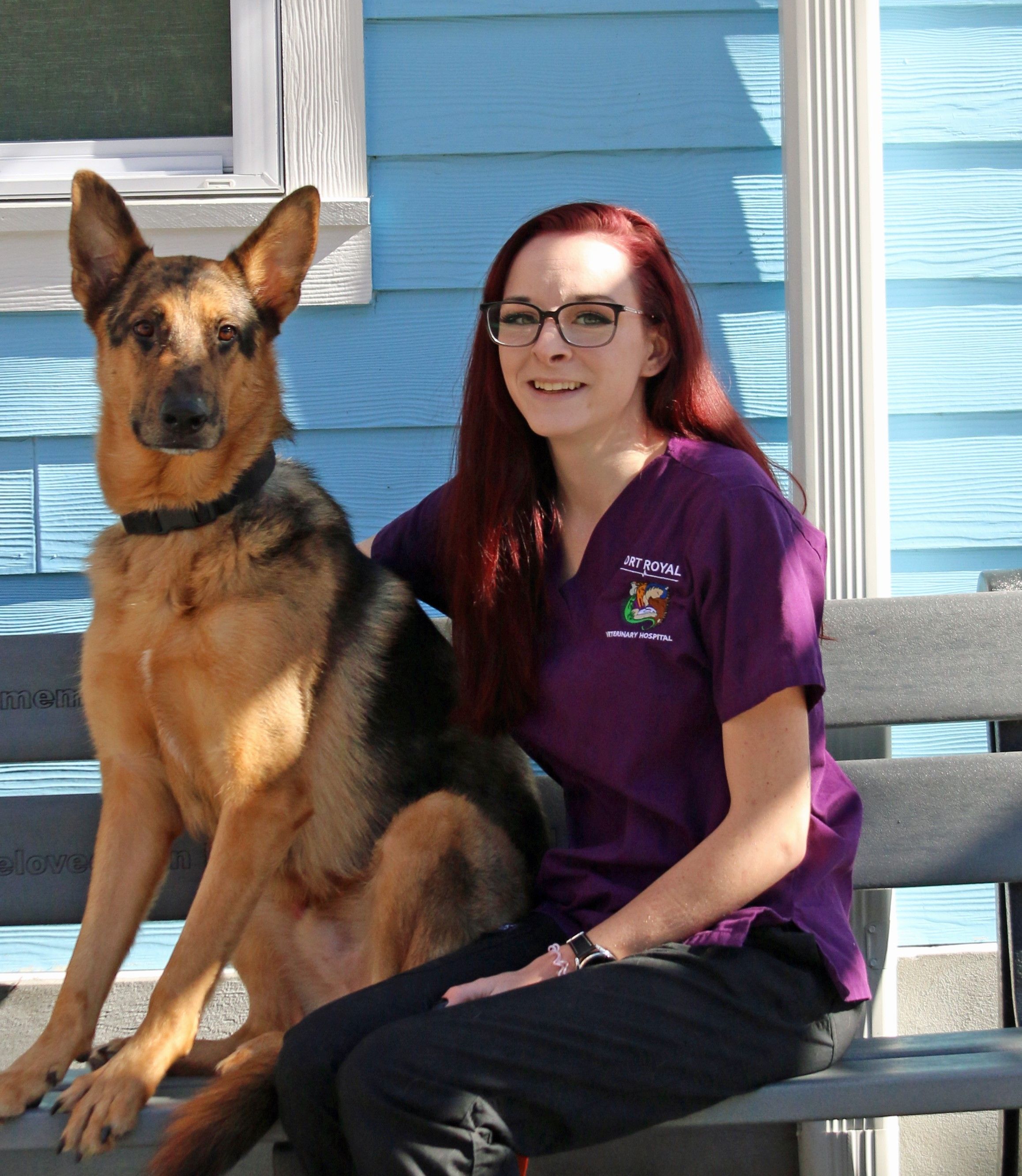 KATIE HARTMAN
ASSISTANT
My name is Katie, I am originally from Michigan but have lived in Washington state and California before moving to South Carolina. I have been working for Port Royal Veterinary Hospital since August of 2020. I have two cats (Atticus and Curiosity) and three dogs (Ranger, Mabel, and Bello).

My passion for animals started very young and I have had the honor of working for many well-known rescues and shelters. I especially enjoy working with shelter animals and misunderstood breeds. In my spare time, I enjoy spending time at the beach or curling up on the couch watching movies.
STEPHANIE TOSCANO
OPERATIONS LEAD
Stephanie recently moved to Bluffton, SC from Long Island, NY where she has spent more than two decades working with animals, both as a veterinary technician and veterinary hospital manager. She graduated from Suffolk Community College with a degree in Veterinary Science and Biology in 2006.

Besides loving animals and working with them, she is a huge fan of music and can name any song and sing all the lyrics to it, too. She enjoys traveling, especially if it involves taking a ride in her Jeep! At home, she has a rescued, one-eyed Toy Poodle named Ziggy, as well as three rescued cats, Bigsby, Hendrix, and Helmet.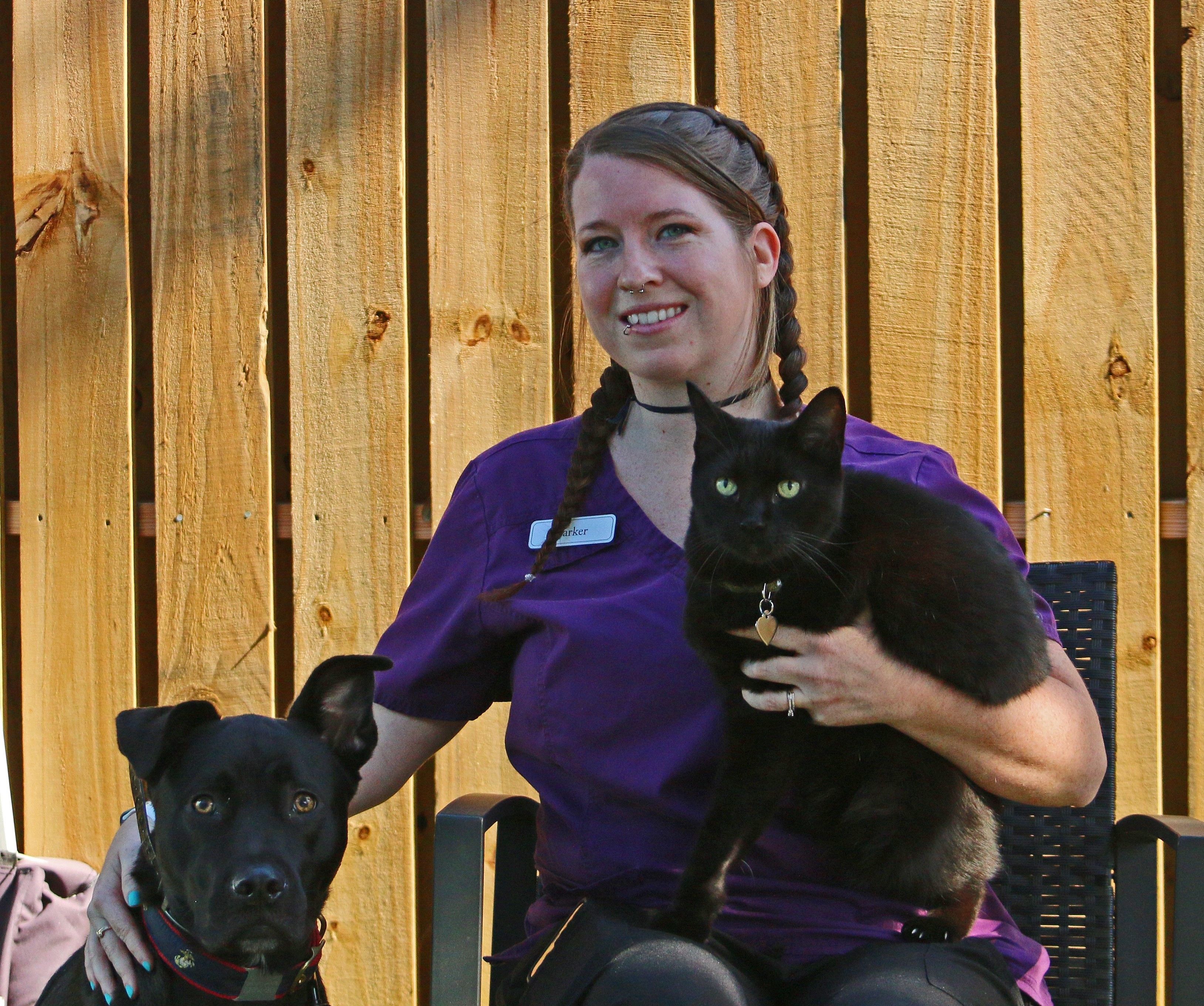 HEATHER PARKER AKA "PARKER"
VETERINARY TECHNICIAN
Joined Port Royal Veterinary Hospital in February 2020. Moved here in June 2018 with her husband who is a US Marine. She has 3 children, twin girls that are 7 and a 5 yr old boy. She also has two cats onyx and rose and a dog named Axel. Being a veterinary technician has been her dream job for as long as she can remember.

"In my free time, I like to hang out with friends/family, running my side business Dependa Designs, being crafty and enjoying life." She graduated from Veterinary Technician College back in 2012 and plans on going back to school for her Bachelors in Veterinary Technician.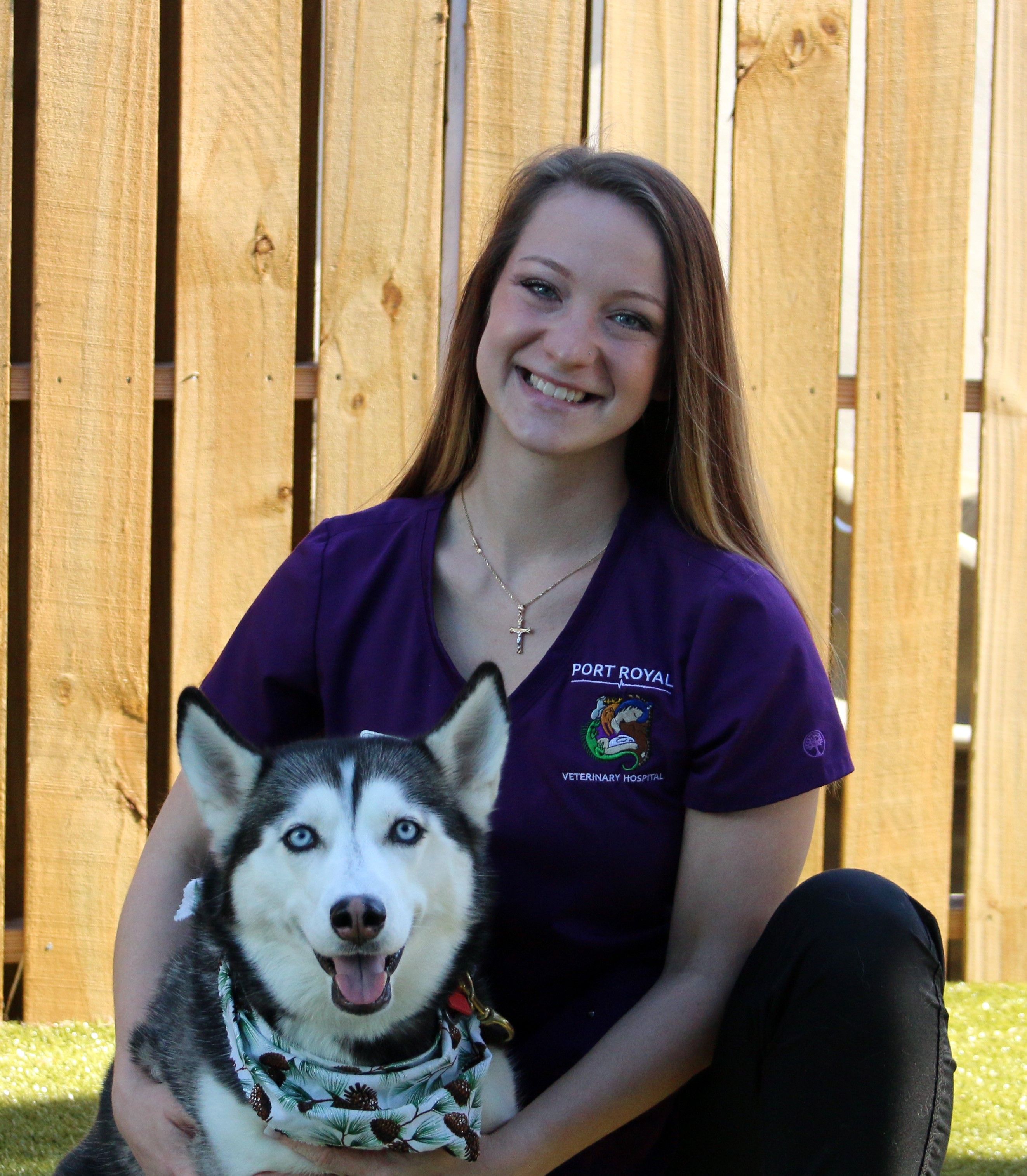 OLEVIA CAUDLE
VETERINARY TECHNICIAN
Olevia joined Port Royal Vet Hospital in May of 2020. Moved from North Carolina in March of 2020 with her husband Christian who is a drill instructor on Parris Island. She is currently enrolled at Ashworth College for her license as a veterinary technician and is a certified veterinary assistant as well as having her associates in animal behavior science.

"In my free time, I like to lift weights, go fishing, kayaking on the water with her husband, and running. I currently own two dogs ( Bella- Siberian Husky and Lily-Shih Tzu) What I really enjoy about being a veterinary technician is the in house lab work that we get to perform and communicating with clients regarding their pets."

After I graduate from college I plan on continuing with my education as a dental hygienist in the veterinary field.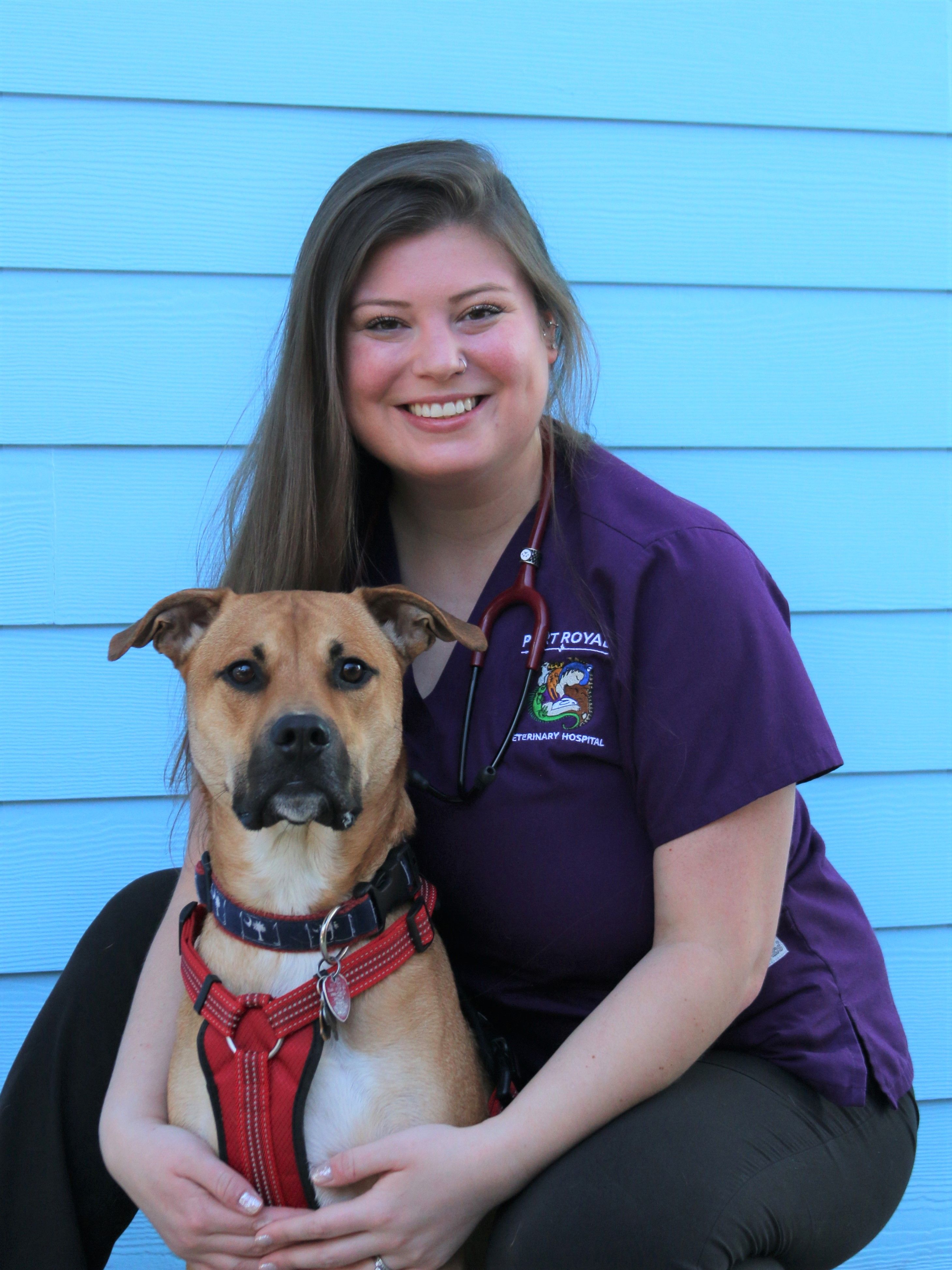 SHELBY HEATH
VETERINARY TECHNICIAN
Shelby joined Port Royal Veterinary Hospital in June of 2020. In 2018 she received her associate's in animal sciences in Southern California. She has 2 dogs Kavik and Clutch and a rabbit named Sable.

"When I get free time I enjoy Fishing in Coosaw, landscape painting, and watching horror movies! My goal in the next few years is to further my knowledge, my passion and to also enjoy more time in the present."
Alisa Mitchell Williams
CLIENT SERVICE REPRESENTATIVE
I am currently a junior at the University Of South Carolina Beaufort and my major is biology with a focus on Pre-Veterinary. I was born in the Bronx, New York, and moved to Charleston, South Carolina shortly after. I moved to Beaufort in my 9th grade year of high school.

My hobbies are singing and sleeping and online shopping. I have a cat named Princess and I have a dog named Nala. I love to travel. We go to New York every other summer. I have been to Atlanta, North Carolina, Spartanburg, Columbia, Orlando Florida. I love to read romantic urban novels. I enjoy working here because I've met so many wonderful people who are very helpful when I have questions regarding pets and the procedures.

I am going to be going to Veterinarian school soon and I will have the Doctor's title and I can't wait so pay attention to my name and face.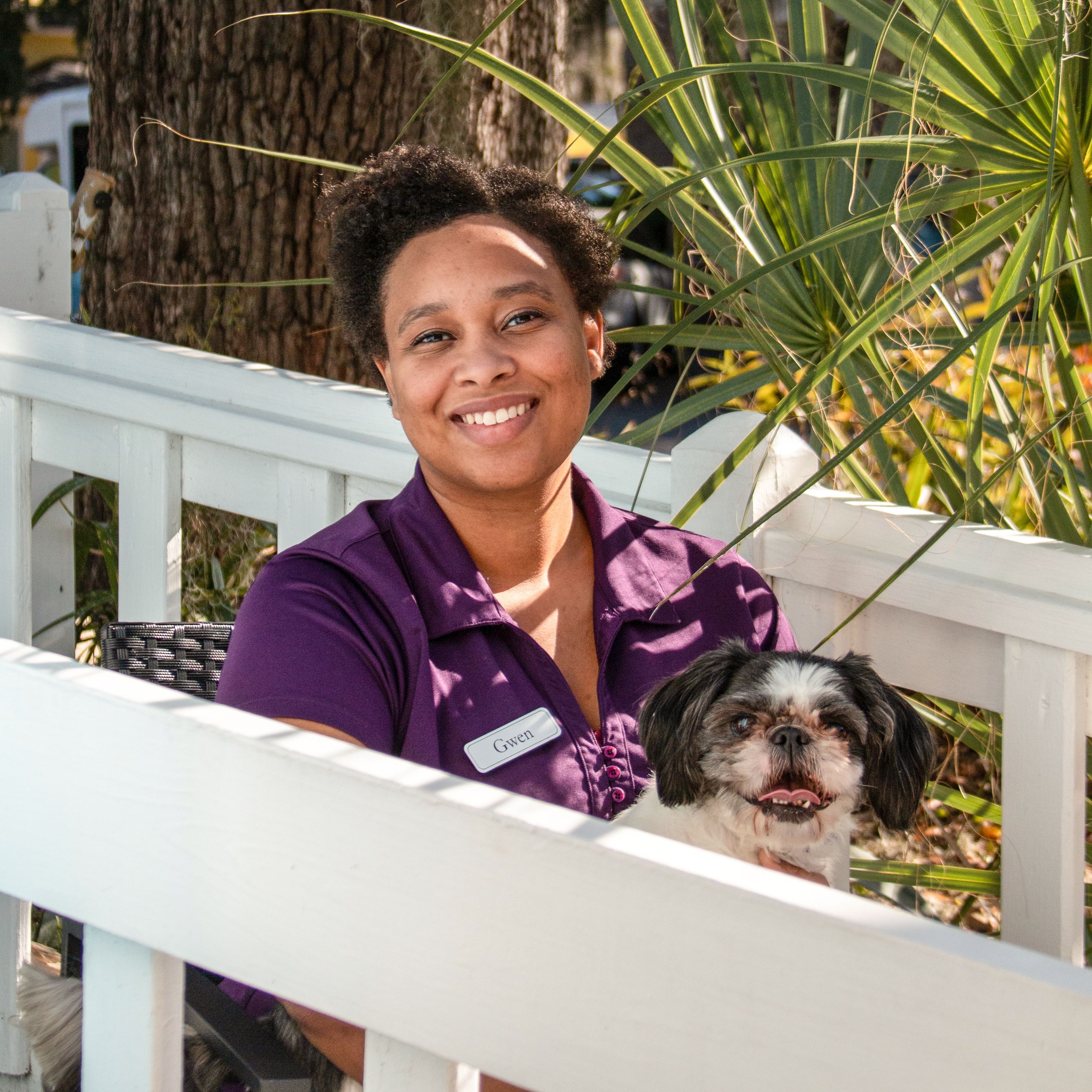 GWEN WILLIAMS
CLIENT SERVICE REPRESENTATIVE
Greetings! My name is Gwendolyn Williams I was born and raised in Columbia, SC. I spent most of my college years studying philosophy, history, and theater. In 2014, I was introduced into the world of veterinary medicine and fell in love educating clients, providing premier customer service, and offering support to our furry family members. After marrying my beloved husband in 2017, we decided to settle down and relocate to the Lowcountry.

I spend my free time reading, cosplaying at various expos, exploring art museums, and cooking exotic cuisines with my sons. We have two rescued fur-babies; Brice and Layla. I have been with PRVH for two years and it has been a great experience working with a team of compassionate individuals.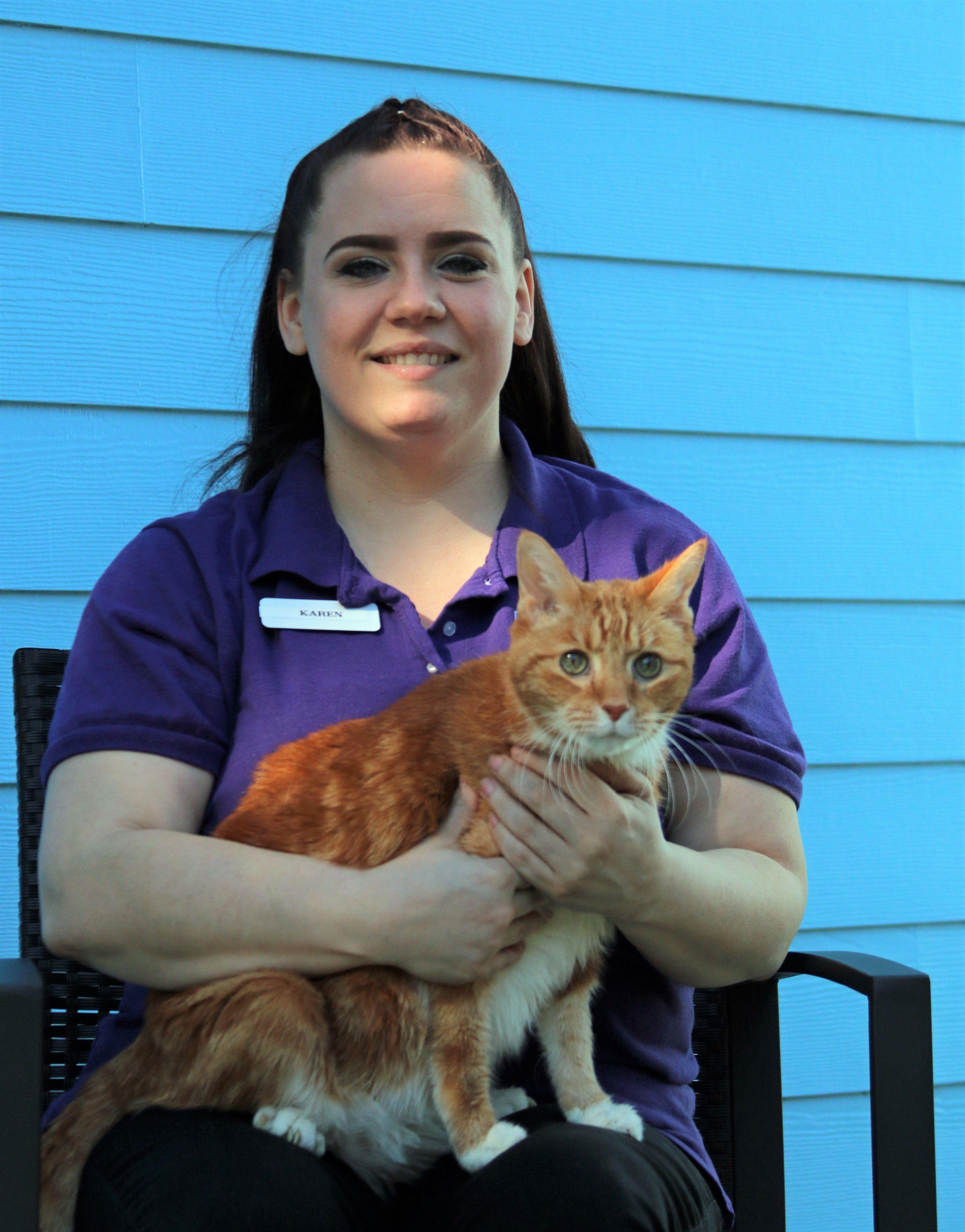 KAREN JONES
CLIENT SERVICE REPRESENTATIVE
"Hello, my name is Karen Jones and I have been with PRVH since April 2020. I'm originally from Southeast GA but moved to Beaufort in 2018. Inspired by my father's decorated career in law enforcement, I received my Bachelors of Science in Criminal Justice with a concentration in legal advocacy and justice studies. I have always been passionate about working with animals.

​​​​​​​I apply my education to advocate for animals in the field of veterinary medicine. I am committed to helping clients enrich the quality of care for their pets. When I am not fulfilling my duties here at PRVH, I enjoy spending time at home with my son playing video games, reading books, cooking, dancing, and going on hikes. I also share my downtime with my fur baby, a 15-year-old orange tabby named Garfield, who enjoys lots of treats and cuddles! I truly enjoy working in the field of veterinary medicine with an amazing team of modern-day superheroes."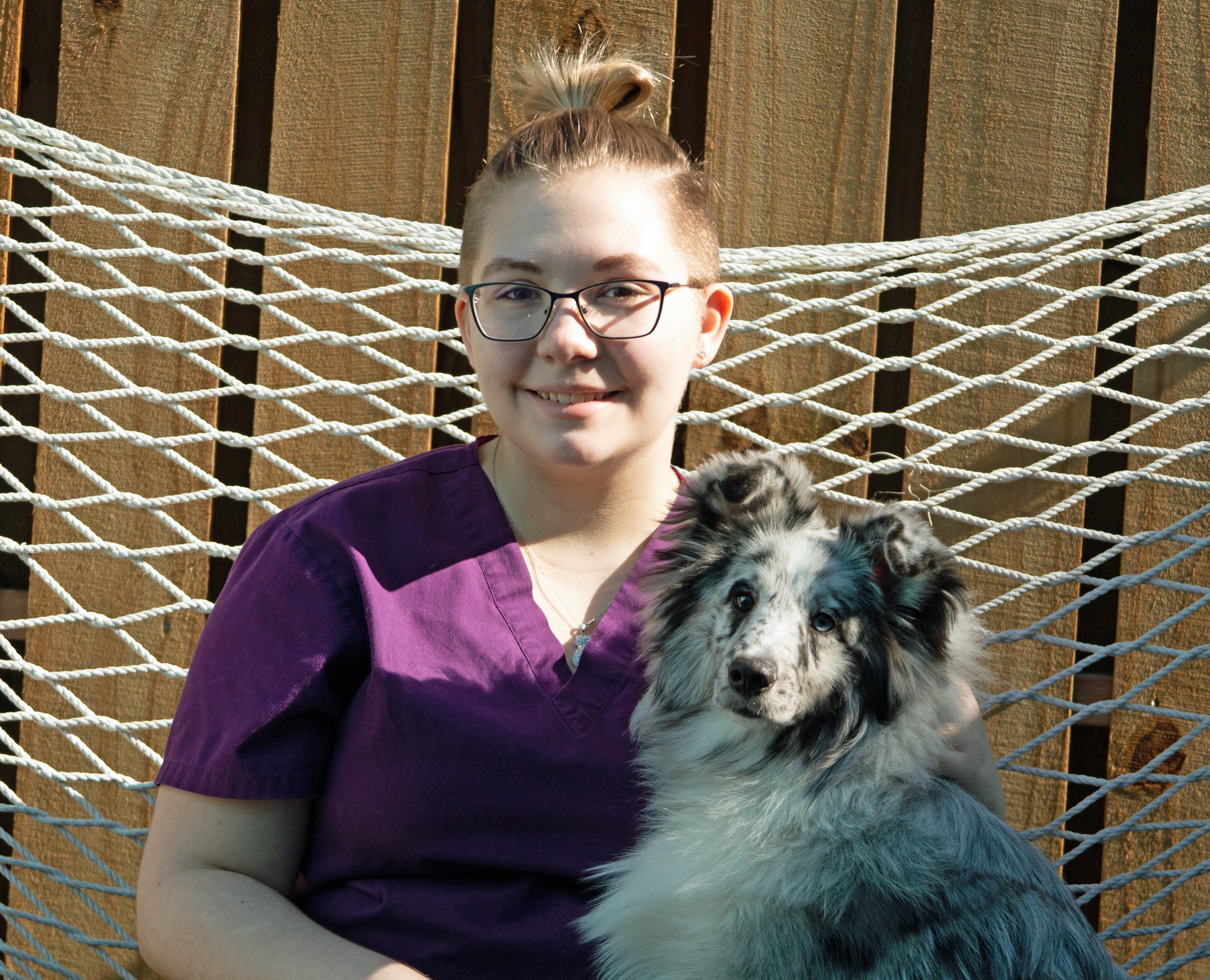 MATTHEW ELLIS
ASSISTANT
Hi, I have been an assistant here at Port Royal Vet since 2018. I am an artsy and curious person and I love to draw. I have a cat and her name is Olivia, but we all call her the "Iron Maiden" because she is very territorial of her personal space. I aspire to work at a (people) hospital in an emergency room. I love Marvel (not to be confused with Dr. Marikay's cat, Mar-Vell), my favorite superhero is Spiderman. I am an avid reader, my favorite author is Stephen King.